best german shepherd training books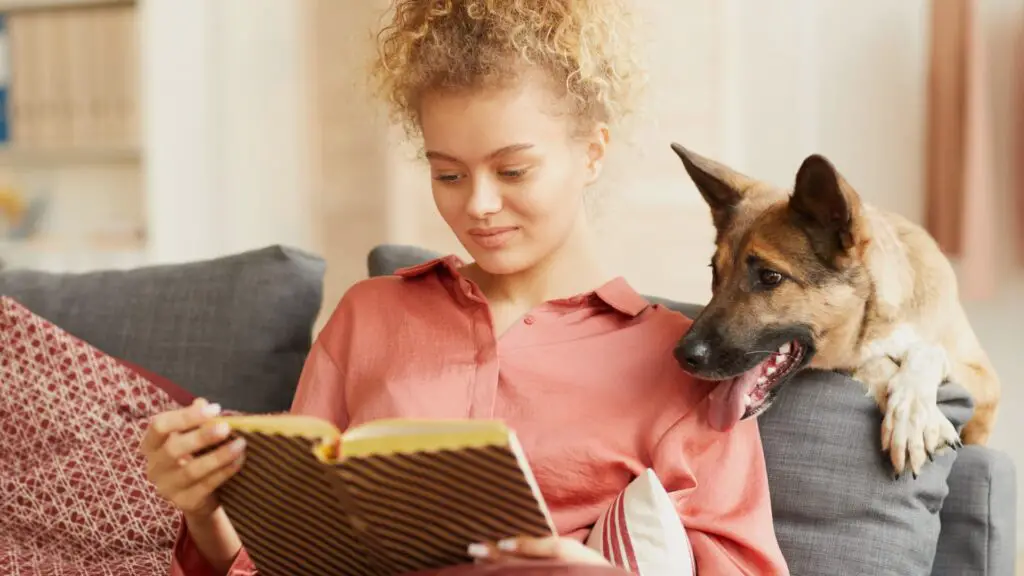 Add a header to begin generating the table of contents
All dog experts and animal behaviorists recommend one to train his dog. A well-trained dog is far better to live with or handle than an untrained dog.
Some dog parents will prefer to seek the services of a dog trainer, while others will prefer to train their dogs themselves.
If you are such a dog parent, then a German shepherd training book should be at the top of your priority.
With vast dog trainers and amateurs who claim to have written the best training dog books, it can be confusing for any dog parent to choose the best German shepherd training book.
Hence why we have created this blog that shows the top German shepherd training books that you can get important training tips.
A list of Top 7 Best German Shepherd Training Books
Here is a list of our top picks of German shepherd training books that we found to be the best fit for you and your GSD.
Top 10 Best German Shepherd Trainging Books
1. German Shepherd Training Book For German Shepherd Dog
This comprehensive training book for German shepherds details how you should start training your German shepherd right after getting it from the breeder. Right inside your car ride from a breeder till you put it on inside a crate- this stage will be vital.
This beginner book illustrates how your dog needs to learn that you are the pack leader; as you know, german shepherds and other dog breeds like where there is authority.
You will also learn the basics of utilizing clicker training when training your German shepherd. You will also learn basic hand cues that most professional dog owners used to communicate with their dogs.
This complete training book explains the importance of socialization and how you can do it as a dog owner.
Afterward, you will learn other dog behaviors that you need to know as a novice or experienced dog owner. Behaviors like pooping in the wrong place, begging, whining, and nipping are common to dogs.
You will learn how to put a stop to such.
2. The German Shepherd Bible
Another training book for german shepherds is this German shepherd bible. First, when you grab this book, you will learn of the important games your German shepherd will benefit from. You also learn the importance of vaccines your German shepherd dog breed needs and at which age.
When you get this excellent book, you will be able to turn that notorious German shepherd into a happy and obedient furry friend.
Key topics on this training book for German shepherds are –
How much sleep does your German shepherd puppy need?
What do German shepherds like to eat for treats?
You will also learn to properly socialize your dog–the dos and don'ts that every dog parent should follow.
Worth noting, this dog book for a German shepherd is written by Ashley Pearson, a psychologist, writer, and dog lover who compresses all the information about training your german shepherd in this 338 pages book. The only thing you ought to note is that this dog training book has no photos to follow up.
3. German Shepherd Training – The Ultimate Guide To Training Your German Shepherd Puppy
Another training dog book for a German shepherd is this one authored by Brittany Boykin.
This dog training book for first-time dog owners details everything you need to know about GSD and basic obedience training.
If you plan to get a german shepherd, we recommend you first get a hand at this dog training book.
The key things you will learn here are
Is the German shepherd dog breed the right dog for you
How much exercise does your dog needs
How to speak your dog's language
How to effectively discipline your dog without causing any harm to him
Simple steps on how to leash train your German shepherd
Socializing your German shepherd
Detailed explanations on how to stop biting and chewing
You will also learn the basics of puppy ownership, don'ts, and don'ts. There are also detailed photos, unlike other dog training books that only have blocks of words.
Get this dog training book for your GSD, and prepare yourself to have a well-behaved dog breed that everyone loves.
4. The German Shepherd Handbook
Are you envious of seeing other dog parents having well-behaved dog breeds that are easy to handle, unlike your German shepherd dog breed? Then we got an answer for you; you should get this training book for a German shepherd.
This dog training book for the first time and advanced dog owners illustrate how you should relate with your dog during the first few days and weeks to create that strong bond.
You will also learn how to house train your German shepherd puppy in a short time.
Also, you will learn how to socialize your dog and its key benefits.
What else is provided here in this book?
Effective training techniques to use on your German shepherd dog breed
What German shepherds don't like.
How to avoid hip dysplasia and other health issues.
Exercising your German shepherd- how much exercise does your german shepherd need.
If you have not yet gotten your puppy, 16 pages detail how to spot bad breeders and how you can choose a healthy puppy with good temperaments- thus, we see this as a good book for aspiring dog owners and those who already own german shepherds.
More to that, 20 pages detail the german shepherd diet; whether it's the diet for puppies, adults, or senior dogs, you will get everything on this perfect book for training dogs.
Health and allergies issues are covered in depth. Also, you will read more about money-saving tips on insurance- which insurance fits your dogs.
Besides basic training, you will learn about spaying, neutering, or vaccinating a German shepherd.
Moreover, over 100 color photos are included in this practical book for german shepherds.
5. The Art Of Raising A Puppy
If you plan to welcome a new puppy, this is a comprehensive book you should get hold of. This one details the art of raising a puppy that every German shepherd owner needs to know. You will learn how and do and don'ts to put your dog inside a crate.
Also, you will learn about adopting dogs from a shelter or a rescue organization- everything to do with this is put into detail.
If you live in an urban environment. You will learn how to care for your dog in such an environment.
This updated dog book also features the latest canine heath and canine behavioral theory developments.
6. Training Your German Shepherd Dog (Training Your Dog Series)
Two experienced writers have authored this book. One is brand Eggeman, a renowned and certified dog trainer and behaviorist with more than 30 years of experience.
The other is Joan Hustace, who has authored over a dozen training books.
This 176 pages dog book details the basics of house training. You will also learn humane ways to break your dog's bad behavior.
You will also learn the basic commands that will prove beneficial for your dog. Step by step, you will also learn other advanced concepts to train your german shepherd.
Moreover, these instructions are followed step by step with colorful photos that you will enjoy practicing with your dog.
After utilizing this dog training book, you will have a well-mannered canine citizen comfortably socializing with other pets and people around him.
So don't waste any time and get this dog training book for german shepherds.
7. Training Guide For New German Shepherd Owners
If you are looking for a comprehensive guide that will help transform your naughty dog breed into a well-behaved dog, then get this training book.
This detailed training book entails the essentials of owning a German shepherd puppy. First, this book starts with the overall 5 facts that will help German shepherd puppy owners understand this dog breed more.
You will learn a simple trick to use so that your puppy can easily adjust to his new home.
Also, you will learn how to potty train your dog breed easily.
You also learn of the latest training techniques that most dog trainers have been hiding from you
With this easy-to-read book, you will be able to guide your dog on how he should behave when interacting with you or other people.
Besides that, you will learn how much food, sleep, or bath your dog needs for him to stay healthy.
Why Is Training A German Shepherd Important?
As you can see, we are highly advocating for the training of your German shepherd. So why is it important?
Teaches Your Dog Life Skills.
One importance of training your German shepherd is that it gets to learn basic life skills. Such basic life skills include keeping calm, not eating anything on the road, house-training. And responding to human calls.
With potty training, your dog will learn not to leave its excrements wherever it feels.
Also, your dog knows how to react when visitors are around- a trained german shepherd won't go jumping on your visitors or attacking them. Also, a trained German shepherd won't go nipping other dog breeds, pets, or children all-around your house.
Also, a trained German shepherd will learn when it's the right time to attack a stranger or when to keep calm. A trained dog breed will sit down when his food is being served rather than jumping all over.
Your German shepherd will also learn how to interact with everyone around him. And this will happen if only you train him.
Make Your German Shepherd Sociable
You don't want to be branded as the person who has a dog who keeps on biting or barking loudly – a german shepherd who is trained has a good reputation as he is calm when in the park. This German shepherd dog breed does not go attacking dogs in the park or barking at everyone when you go to the grocery
Hence why socialization will be key – and the best time to socialize your German shepherd is when he is still young- during this duration, your GSD is enthusiastic about learning everything around.
Thus during this socialization session, take him to a park where he will interact with small, medium, and huge dogs.
If it's not possible to take him to the park, you can take him to an obedience class where he will interact with other dog breeds.
After finishing these classes, your dog will be well socialized able to relate with anyone around, amicably.
Thus training will be important in eliminating bad habits.
Training Helps You Understand Your German Shepherd Better
There is no other better way to understand and learn more about your GSD rather than to train him by yourself.
Unlike when you get a dog trainer, training your dog with a German shepherd training book will help you understand the strength and weaknesses of your german shepherd.
You will be able to understand where your German shepherd needs correction so that he can transform to be a good boy.
Training Keeps Your Dog Safe
A trained german shepherd can be able to control himself when he's exposed to danger – for example, untrained dog breeds won't understand a busy highway can be dangerous, thus may cross it blindly- and the results are well known, your dog is much likely to get knocked down.
However, a trained dog breed will be careful when crossing a busy highway.
Also, a trained dog breed won't eat anything from the ground- untrained dog breeds may consume poisonous materials thinking that it's food.
If you have trained your dog the 'drop it' command, he's highly likely to drop what he is about to consume, unlike an untrained dog.
Also, trained german shepherds won't go, attacking every dog or person they come across on the road; they may get a beating or be killed 
Builds A Lasting Relationship With Your Dog
Another benefit of training your dog is that you strengthen the relationship you have with your dog-Interacting with your dog more often will see both of you become great friends
Alleviate Stress
Untrained dog breeds are aggressive and always scared. These dogs are lost of confidence and will attack you out of fear; however, training your german shepherd can help clear this behavior without harming or intimidating your german shepherd.
What Is The Best Method Of Training A German Shepherd?
Even though there are various training methods, the best one that most dog experts recommend is positive reinforcement. This type of training entails rewarding your German shepherd when he does a recommendable action and not doing so if he does not follow your commands.
When using positive reinforcement, you should use a highly valued reward that your dog likes. If your dog likes baby carrots, reward him with them if he does something remarkable.
Also, when it comes to positive reinforcement, consistency is crucial- don't reward your dog if he does do what you don't desire- he will be confused.
What's important with this positive reinforcement is that it's a humane way to train your dog rather than use harsh methods.
Although sometimes it can be slow before you get results, it's one of the best training methods that won't fail you.
Can A German Shepherd Be Trained Easily?
The German shepherd ranks high when it comes to intelligence. Thus, this dog breed is easier to train than other dog breeds.
Also, a German shepherd's love of pleasing its owners makes it easier to train even the advanced concepts.
All that is needed is you start the simple or advanced training sessions early as soon as you get your dog from the breeder.
Start slowly using the right training methods, and by the end, you will have a well-behaved dog breed easy to handle.
What Is The Best Age To Start Training A German Shepherd Dog Breed?
According to the AKC, the best age to start training your german shepherd is right after you get one from a breeder.
After getting your GSD, start by training it potty habits month by month. Let it know where it should drop its accidents.
Afterward, you can transition to advanced concepts. Trainers advise to start early as it's during this age puppies are learning the world around them. It's at this age their cognitive function is developing.
If you are unable to train your German shepherd by yourself, then you can enroll your dog in obedience classes or a boarding – in this class, your dog will be taught basic commands and other life skills that he can apply in his day-to-day life.
Worth noting, some veterinaries advocate that dog owners start training their dogs after they have finished with all puppy vaccinations.
This is during 6- 7 months of the puppy – this ensures your dog doesn't acquire or transmit any diseases when you enroll him in an obedience class.
Although controversial, it somehow makes sense.
All along, we advocate that training your german shepherd should start when he is a puppy.
How Do You Discipline A German Shepherd?
How do you disciple your German shepherd whenever you find it doing mischievous behavior? Do you kick or throw things at it? No! This is not the recommendable thing to do.
A good way to disciple your dog is to redirect it from the action it's doing to the behavior you desire.
For example, is your dog eating and tearing up your shoe? Then redirect that action by finding a chew toy for him.
Also, if you find a dog peeing in the wrong place, don't punish it by rubbing its nose on the pop. Rather pick it up and take it to where you want it to be popping.
Also, if your dog is barking a lot, don't yell at it; your German shepherd may see as if you are enticing it to bark more. Rather than try to grab its attention, try to look at why your dog has this behavior.
Most dog behaviorists and trainers can confirm yelling or throwing things at your German shepherd has never worked as a way to punish a dog.
What You Should Not Do With A German Shepherd Dog Breed
Having a GSD in your house is a huge responsibility that most dog parents don't take with the weight it deserves. Here is what you should not do with a German shepherd dog breed.
Never yell at your german shepherd
Don't kick your german shepherd
Don't reward your german shepherd, if it doesn't do what you want it to do
What should you do?
Train your dog early
Use positive training
Be consistent in how you train your dog
Persistency when training your german shepherd is important
Is It Ever Too Late To Start Training A Dog?
Although most dog experts recommend you start training your GSD early, it's never too late to start training sessions.
Old dog breeds can also learn new tricks. Most dog owner's like that older german shepherd are easy to train as they are less likely to get distracted during training sessions
Also, if you rescue an old dog breed, he may come armed with some basic commands he had previously learned from his owner. Thus it's never too late to start training your german shepherd.
Nevertheless, the earlier, the better. Start training your dog new tricks when he is a puppy will help you understand his flaws and strength. From there, you will be better positioned to train your GSD puppy consistently with more quick results.
Can I Train My Dog Myself?
It's possible to train your german shepherd yourself. All that is needed is persistence, commitment, and, most importantly, consistency. And a good way to do so is by getting the best training book for german shepherds.
Choose a training book for german shepherds that will guide you step by step on how to shape your ill-behaved dog breed to a perfect canine friend that anyone will yearn to have.
The good thing about training your dog yourself is that it's cheap compared to when you seek the services of a dog trainer or enroll your dog in an obedience class.
The best training books for German shepherds will help you mold your dog in the right direction.
With the reviewed adult and puppy training books, we know now you will have an easier time choosing which one suits your dog the best way.