What are the Best Dog Food Brands for German Shepherds (2021 Buying Guide)
Add a header to begin generating the table of contents
There are a plethora of dog food brands on the market professing to be the best for your canine friend.
Now, that's quite a tricky place to be – I know, I've been there.
I can tell you, from experience, that it becomes supremely tricky selecting the best dog food brands for your German shepherd.
But hey, I've got your back, I'm going to share my tricks for selecting food formulas that have served me well, and the best part is, I will show you the specific dog foods I've been feeding my dog.
So if you're ready, let's get started…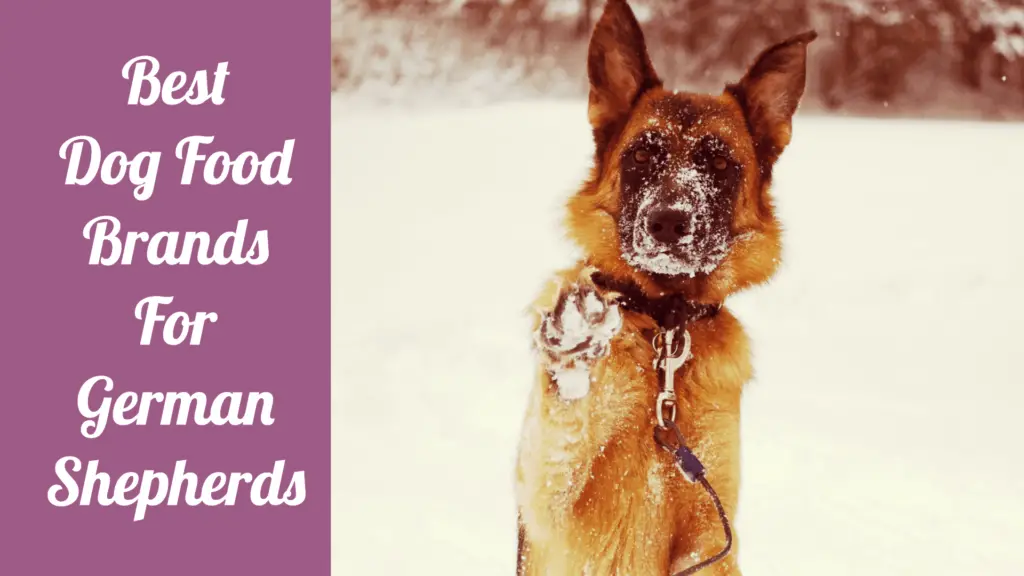 What is the Best Dog Food Brand for German Shepherds?
Thankfully, German shepherds aren't as prone to allergies as other dog breeds, which are a good thing by the way, since there are a lot more options open to you when it comes to feeding your pet.
You have an ease of mind when introducing new products to your dog without so many concerns about how they would react to it–that's a real blessing, I can assure you.
At a Glance: Our Choices of Best Dog Food Brands for a German Shepherd
Top 6 best dog food Brands for German Shepherds
From my experience with several dog food products, I've whittled down my selection to these 6 products and they cover every stage of the GSD development, so I believe you'll find a product that's suitable to your dog no matter their needs.
The Whole grain Orijen Adult Dog Food is by far the most widely recognized dog food brand on the market today, and it is for a good reason.
Formulated with whole natural ingredients the diet is packed full of all the essential nutrients and in the right quantity that ensures your pets are well nourished.
The food is a source of high-quality proteins as they are meat-based and made from fresh topnotch meat such as cage-free Cobb chicken, a mixture of eggs, and a mesh of sea caught fishes; which makes them biologically suitable for adult dog breeds.
Also, the meal is choked full of vitamins and minerals from the veggies and fruits component of the food.
In fact, an ingredient breakdown of the food shows that two-thirds of the meal is raw meat, it is grain-free to prevent allergies and the remaining 15 percent made of vegetables and fruits.
Another thing going for Orijen is the fact that it is made in Canada, where the standards are strictly enforced.
However, what really stands out for me is that the food is nutritious and has all the essential elements for a German shepherd.
2. Taste of the Wild dog food
Taste of the Wild grain free premium meat dog food surely lives up to its name of providing the wild flavor the furry pets craves for.
Gradually introduced the Taste of the Wild into my GSD's diet due to how pricey Orijen is, I was initially concerned that she wouldn't like it; boy was I wrong!
Made from premium wild meats such as roasted Bison, lamb meat, chicken, beef, ocean fish and other rich, high-quality protein sources; sweet potatoes, peas for complex digestible carbs; tomatoes, raspberries, blueberries, and other vegetables for essential vitamins and minerals; canola oil as a source of fats.
Other features that make this dog food one of my favorites is the addition of species-specific probiotics that ensure healthy guts and active immune system – this means that your pup gets probiotics that are unique to her system.
And if you're worried about allergic reactions due to grains, you can rest easy knowing that this product is grain free; also it contains well-balanced omega fatty acids to ensure shiny, healthy skin and coat.
The presence of chelated minerals helps in the absorption of nutrients by your pet; hence helping your canine friend to maximize the benefits this food has to offer.
3. Nulo Adult Grain-free Dry Dog Food
The German Shepherd thrives when fed with dog food rich in high-quality proteins, fats, essential minerals and vitamins and a dash of carbohydrates.
Nulo Adult grain-free dry dog food is formulated for convenience, which means you can prepare quickly and serve your dog without much hassle. And also, to provide a sumptuous nutritious meal.
So you can be sure your canine friend is getting all the nutrients she needs including the amino acids for muscle and cell building, fats for lubricating the joints, carbs for the supply of energy to fuel her active lifestyle, and the vitamins and minerals to boost immunity.
A breakdown of the nutritional content of the food shows that 80 percent of the meal is protein from meat-based sources. 
A well-balanced omega-3 and omega-6 fatty acids for brilliant coat and of course, grain, gluten-free so you don't have to worry about allergies.
The manufacturers of this dog food pride themselves in crafting a pet food that's fillers free doesn't have preservatives, zero food colorings, and other chemical additives.
Finally, you may be surprised to find that this dog food doesn't contain any chicken or egg protein; this is because many dog breeds react negatively to egg and chicken products, and others may develop allergies if consumed for a long time.
4. Royal Canin Breed Health Nutrition German Shepherd Adult Dry dog food
Breed specific dog foods like Royal Canin are designed to cater to the unique needs of a particular dog.
In this case, this product is made especially for the German Shepherd, a large breed that requires an enormous amount of protein, energy pumping foods, and vitamins for developing healthy bones.
This dog food features a unique kibble design, texture, and taste that are tailored to make your GSD run to you for more portion.
Packed full of protein from meat by-product that is 300 times richer in protein than fresh chicken hence ensuring that your pet is well nourished and energetic.
 Features of Royal Canin German Shepherd Adult Dry dog food
Formulated to maximize the inner digestive tract makeup of the GSD hence ensuring improved absorption while also maintaining a balance of the gut fauna.
Choke full of essential vitamins and minerals including calcium, zinc, Vitamin E, B6, C, B1, and much more which help ensure a healthy skin and brilliant coat.
Enriched with DHA, Omega-3 and Omega-6 fatty acids which aid in the production of lubrication for healthy joints.
5. Blue Wilderness High Protein Dry Adult Dog Food
This dog food Blue wilderness adult dog food is inspired by the idea to provide a meal as close as possible to the ones eaten by dogs in the wild which of course is made up of majorly raw fresh meat, a splash of high fiber complex carbs, and fruits.
That's designed to satisfy the wild cravings of your German shepherd, keep it feeling full all day and fuel it's active, energetic activities.
Every pack of these dry dog food recipes is a unique two-part food that's made of the purest natural ingredients enhanced with a finely blended mix of minerals, vitamins, and a proprietary anti-oxidant rich kibble, prepared under a mild heat to preserve its potency.
No matter the life stage of your pet or whether it's a large or small breed dog, there's undoubtedly a recipe formulated for the specific breed. Each containing real high-quality protein source like salmon, chicken, duck.
Also, topnotch well-balanced omega-3 and omega-6 fatty acids are present to support the development of your German puppy, the inclusion of these two essential nutrients – glucosamine and chondroitin ensure joint mobility while also strengthening the bones to prevent dysplasia.
6. Hill's Science Diet Dog Food For Healthy Weight and Weight Management
As your furry friends get older they become less active, more sedentary and from my experience taking of dogs, they'd begin to get a bit heavier, gaining more weight, and becoming more prone to illness and injury.
To manage your GSD weight gain, you'd incorporate all of these into your canine companion's life: take it out for more physical activities and introducing healthy weight management food to combat weight gain.
Here's where dog foods like Hill's Science diet dog food come in handy.
Gently add a small quantity of the dog food to your pet's portion until you face out the old food, however, keep a close watch on your dog to identify any changes or discomfort.
The food is designed to help your dog achieve weight loss, maintain optimal weight and improve quality of life and it is made from delicious real lean meat like chicken.
It also includes prebiotic fibers to aid digestion while maintaining the gut fauna balance, a precise blend of vitamins and antioxidants enhances the immune system and primes the dog to fight off illness.
Things to consider before choosing the Best dog food for German shepherd puppy and adult dogs
Before selecting the best dog food for German Shepherd, there are certain things to consider, and they include:
How old is the dog?
The thing is, age plays a significant role in determining what nutrients and what quantity your dog will need them.
Young growing puppies are more active. They expend more energy and are, of course, still growing.
This means they'd need more high calories than older dogs to supply them with the fuel they need, and a lot more protein to aid in their growth.
Elder Gods add weight more easily, are less active, and hence it's imperative to cut back on the level of carbs they consume.
Hence, taking into consideration the age of your pet is essential if you must purchase the right dog formula that's best suited to them.
What is the Dog's size?
German shepherds are a generally big breed, which means they can grow to be anything between 70 to 100 pounds.
A perfect blend of carbohydrates, fats, proteins, vitamins, and minerals is needed to fuel and maintain this massive body size.
So you see, it is not just enough to feed your GSD any food – it's vital that you research the nutritional value of the dog foods you intend purchasing to be sure it contains all the nutrients your dog needs and that they are in the right quantity.
How active is the dog?
The last point to consider before making your purchase is considering how active your German shepherd is.
The reality is if your puppy spends way too much time lying down and sleeping, then she doesn't require as many calories as a GSD that's running across the farm field or a service dog.
In a nutshell, I'm saying that the nutritional needs of your pet depend to a large extent on how active they are.
So now you are familiar with some of the factors to consider when deciding on the type of dog food to get for your German shepherd, let us take a look at what actually makes a dog food the best for your pet.
The fact of the matter is, not all dog foods are created equal.
And as far as I can tell, you want the best of the best for your companion, so here are some of the nutritional values to check out before handing out your bucks.
Protein Content
According to the Association of American Feed Control Organization (AAFCO) recommendations, dog foods for large breeds like GSD should contain between 30 to 40 percent high-quality proteins, with a minimum of 22 percent.
Now the trick is in identifying what's a high-quality protein. Well, that's why you're here, isn't it?
High-quality proteins are in essence from actual meat based sources, not from those expired meats from the grocery, neither is it those animal by-products nor meats that aren't fit for human consumption.
Fats
Also, the AAFCO recommends that your German shepherd's food contain between 15 percent to 30 percent animal-based fats.
Due to their health benefits and the vital roles they play in boosting your dog's metabolism, they are a must-have.
Fats help in the development of healthy bones and joints, the provide lubrication for the internal systems and are crucial in the production of fatty acids that enhance digestion.
Vitamins and minerals
Though a small portion of your dog's diet, they are as equally important as the other nutrients.
A well-balanced diet choked full of essential minerals and vitamins ensures that your dog is able to build up a robust immune system to fight off diseases, maintain the shiny, beautiful coat, and ensure they are good-natured.
Fun read: Fruits German Shepherds can and cannot eat.
Carbohydrates
There's a raging debate as to whether carbs should be part of dog's food due to the different sources they can be obtained.
Some argue that some sources of carbohydrate are harmful to the dogs in the long term.
However, regardless of which side of the debate you're on, one thing remains, GSD need about 5 to 8 percent of their diet to be carbohydrate.
So for me, I have found carbohydrates from sweet potatoes, rice, barley, and oats particularly good.
While at it, avoid as much as you can carbs from wheat-based products, corn, and soy.
Related Questions Answered
How many times should I feed my German Shepherd puppy?
A healthy puppy should eat twice a day. They are still developing and growing, so they will need more calories than an adult German Shepherd.
For the first few months, your puppy's stomach can't digest much. So, feed him small amounts several times a day. 
The volume you're feeding will gradually increase as he gets older. 
At this stage, it's okay if he doesn't finish his entire meal at one time.
How Much You Need To Feed Your German shepherd Puppy?
How much you feed your puppy depends on how much it weighs.
A weighed and balanced diet is the best for German Shepherd Puppies in this stage of development.
Recommended daily amount of food for German Shepherd Dogs:
7 Weeks To 7 Months Old: ½ -1 cup (45-70 grams) of puppy food per day
7 Months To 1 Year Old: ¾ -1½ cups (80-100 grams) of food per day.
How Much Should I Feed My German Shepherd Adult Dog?
In the first 12 weeks, you can feed your dog as a puppy, but once he crosses 12 weeks, you can switch him to an adult dog's diet.
The feeding requirements heavily depend on the mass and weight of the dog.
If your adult dog weights 60 to 90 lbs, then it is important that you provide him with 3 to 4 cups of food every day, two times a day that is morning and evening.
The second most important thing to keep in mind is that now your puppy has grown up in to an adult dog and so does not require the same quantity of food that was previously needed to help him grow and get bigger.
It is for this reason you must be careful enough to ensure that you provide your adult dog less food than the amount of food you used to give him as a puppy.
As an adult dog, they only need to be fed twice, but at least in one meal they should be provided with some egg, cheese, yogurt, milk and some amounts of canned food to ensure better health and nutrition.
German shepherds are a joy to have – their endless energy, intelligence, and fierce loyalty are a few of the attributes that have endeared them.
However, it's not all fun and rosy trying to cater for their upkeep.
To many owners, figuring out the best dog food for German Shepherd that's ideal for their pet is indeed a significant source of concern.
I hope though that this article addresses those concerns, from helping them identify the vital nutrients that must be present in any diet they choose for their pet, to the recommended quantity of each nutrient even to elements to avoid.
So let's take a peek into some products I have used over the years and my thoughts on them.