Blue Wilderness Dog Food Review for adult and puppies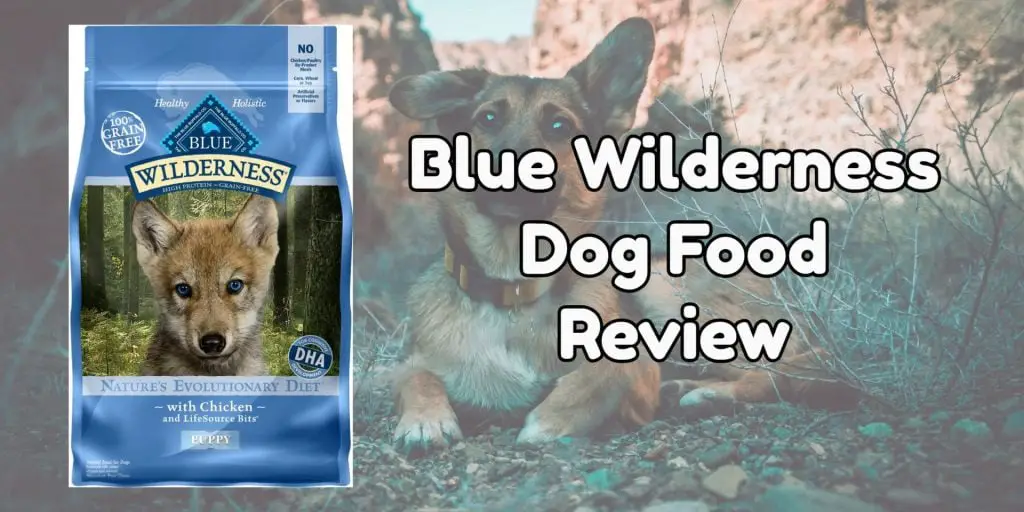 On this post we are going to review the both Blue Wilderness puppy and adult dog food. 
Add a header to begin generating the table of contents
Blue Wilderness puppy Dog Food Review
There is a wolf in every dog; this is more than a statement as there is truth in it. Just like wolves, dogs come from the same ancestors, and as such, they need a diet that suits their inherent wolf-like tendencies.
It is needless to point out the fact that a dog's diet can either be beneficial or detrimental to its overall health, just as we have it with humans. That being said, providing your dog with a balanced diet that contains all the necessary ingredients required for a healthy development becomes essential. But so many dog owners find it may not be getting the right food for their dogs.
As with humans, selecting the right diet for your dog that contains the right proportion of the necessary elements for bodybuilding requires some level of research. While there are so many options available in the market with as many knock-offs as the originals, it becomes somewhat tiring for dog owners to make a decision on what food they should get for their pets [that also provides the best health benefits].
This brings to BLUE Wilderness to the fore.
Blue Wilderness dog food for puppies
Inspired by an ailing Airedale, the makers of BLUE Wilderness were able to produce this dog food using high-quality and natural ingredients which have significant health benefits for your dog.
BLUE Wilderness is a high protein, grain-free diet for puppies. Since dogs belong to the same family as wolves, they need a diet that satiates their wolf cravings. And just like their ancestors, dogs are carnivores and naturally prefer foods with high proteins and meaty rather than cereal grains.
Based on this, Blue Wilderness has been prepared using high-quality ingredients needed to satisfy your dog. The diet contains real meat with the necessary vitamins and minerals required for healthy dog development.
Essential Ingredients of Blue wilderness puppies dog food
BLUE Wilderness is made from a combination of natural and high-quality ingredients that include deboned chicken, chicken meal and fish meal. Asides from these, BLUE Wilderness, has an accurate composition of vitamins, minerals, and anti-oxidants – something referred to as Life Source Bits. 
The Life Source Bits are processed at a colder temperature than other ingredients to help preserve their effectiveness.
Some of the most vital ingredients contained in BLUE Wilderness include DHA – for cognitive development, glucosamine, chondroitin – for mobility support, and of course high proteins. Others include but are not limited to: Tapioca Starch, Pea Starch, Menhaden Fish Meal, Natural flavor, flaxseed, dried tomato pomace, fish oil, chicken fat, potassium chloride, choline chloride, calcium carbonate, calcium iodate, dried yeast, turmeric, nicotinic acid, calcium pantothenate, potatoes, sweet potatoes, sodium selenite, folic acid, vitamin B1, vitamin B2, vitamin B3, vitamin B6, vitamin C, Zinc sulfate.
Varieties of Blue Wilderness dog food
There is a BLUE Wilderness recipe available for every dog no matter its age or stage of development. So whether your dog is a little puppy or a large Rottweiler, there is a BLUE Wilderness recipe for it. Nonetheless, as the name suggests, this dog food has been specially formulated for your puppy's health needs. Because the healthy and stable growth of your puppy is significant to you, BLUE Wilderness has been prepared with the health of your dog in mind.
Health Benefits of BLUE Wilderness High-protein Grain-free Diet
Feeding your dogs with BLUE Wilderness offers a lot of health benefits for your pet. Some of the most important advantages of feeding your dog with this high-quality pet food include the following:
BLUE Wilderness is rich in proteins that are similar to those required by wolves. All BLUE Wilderness varieties feature real chicken, salmon, duck, etc. which are sources of high-quality proteins.
The unique protein sources in addition to the chicken meal include halibut, quail, rabbit, bison, and venison which appeal to the inherent wildness of dogs.
Grains have been known to be allergenic sources in dog foods. This is because a dog's alimentary canal is not well developed for digesting them. Moreover, when dogs eat grains and are unable to completely process them, over time the undigested grains can cause problems for the pet. Most of the food allergies, food intolerance, obesity, and other food-related disorders in dogs are caused by grains.
BLUE Wilderness does not contain any grain which makes it a safe and healthy choice for all dogs. This means that every part of BLUE Wilderness can be digested by your dog.
Includes wholesome fruits and vegetables
There are so many health gains from eating foods having nutritious fruits and vegetable content. Such foods filled with vitamins, minerals, and other important ingredients that boost the body's immune system. Thankfully, BLUE Wilderness contains these and more to ensure that your dog is always healthy.
No artificial flavors or preservatives
Artificial flavors and preservatives have negative health impacts on humans as well as pets. These substances are known to cause several health problems such as cancer, brain damage, nausea.
BLUE Wilderness does not contain any artificial flavor or preservative. Instead, using the Life Source Bits composition that is also nutritious, BLUE Wilderness can stay for more extended periods without any reduction of quality.
An accurate blend of vitamins, minerals, and anti-oxidants
The good combination ratio of vitamins, minerals, and anti-oxidants has important health effects on your dog. For one it helps in enhancing the immune system against diseases. Also, the combination assists in maintaining a healthy oxidative balance in the system.
No chicken/poultry by-product meals
Poultry by-product meals may have high-protein content due to the composition, and although they are less expensive than the real thing, they are however not dog-friendly as they are not as digestible as the regular chicken meal. Chicken by-product meals are made by crushing the clean parts of a dried chicken carcass.
The absence of corn, wheat or soy in your dog's diet means a lot for your pet. The primary advantages include a reduction in food allergies, more energy, healthier and sheenier coat, less shedding, keeps your dog filler longer so that it gets hungry less often.
BLUE Wilderness adult Dog Food Review
What you fed your dog when it was a puppy needs to be different from what you should give it as it grows older. This is because at every stage of growth there are essential nutrients that need to be in the food given to your dog for the process to go well. 
A deficiency in even one of these necessary nutrients can lead to several irregularities or disorders in your pet.
So as a dog owner, there is a need to pay close attention to the nutritional needs of your dog at each stage of its life. This will go a long way in determining how much your pet will develop.
The BLUE Wilderness high-protein grain-free adult dry dog food is particularly formulated using natural ingredients which contain accurate and adequate portions of the required vitamins and minerals for healthy dog growth.
With so many years in the business, this product is well known for its unique ingredients. Unlike some other dog foods with imported ingredients, the BLUE Wilderness adult dog food does not contain any foreign produced raw material. All ingredients according to BLUE Buffalo are gotten in the USA.
Features of the BLUE Wilderness high-protein grain-free dry dog food
As a dog owner, it doesn't matter whether you are switching to BLUE Wilderness from another pet recipe or this is your first attempt into dry dog foods, you and (ultimately) your dog have a lot to gain by using this pet recipe.
There are unique characteristics of the BLUE Wilderness high-protein grain-free dry dog food. Some of them are briefly outlined below.
Each pack weighs 24 pounds
The BLUE Wilderness adult dry dog food is a combination of many essential ingredients in a complete package weighing 24 pounds.
The BLUE Wilderness adult dog food is made from natural and healthy components with the deboned chicken meat as the starting ingredient.
There is a wolf in every dog. This means that dogs have cravings for meat much like their ancestors. The BLUE Wilderness adult dog food contains high levels of protein needed to cater for the wolf nature in dogs.  The starting ingredient – deboned chicken – for BLUE Wilderness adult dog food contains adequate amounts of the required protein.
It is known that most dog breeds have a problem with the digestion of grains. This has been accounted for, and as a result the BLUE Wilderness adult dog food doesn't contain any grains. This ensures that you don't have to worry about your dog having digestion problems.
Contains healthy fruits and vegetables
While preparing the BLUE Wilderness adult dog food, wholesome fruits like BLUEberries and vegetables such as carrots were incorporated. These fruits and vegetables contain essential vitamins and minerals which are needed for important body functions including boosting the body's immune system. By boosting the immune system, the nutrients contained in the fruits and vegetables assist in keeping the body healthy.
The BLUE Wilderness adult dog food contains no artificial preservatives, but through the exclusive LifeSource Bits, the dog recipe's potency is kept maintained. LifeSource Bits is a term which refers to an accurate mixture of vitamins, minerals, and anti-oxidants.
Chicken by-products are prepared by mashing the clean parts of a dried chicken carcass. This adult dog food does not contain any chicken by-products which are not easily digestible.
Cereals such as corn, wheat, and soy are known causes of allergenic reactions in dogs. Asides from this, they can also contribute to the frequent shedding in dogs and make their skins lackluster.
Essential ingredients of the BLUE Wilderness high-protein grain-free adult dry dog food
The essential ingredients for making the high-quality BLUE Wilderness formula are deboned chicken, chicken meal, peas, pea protein; Menhaden fish meal, flaxseed, pea starch, tapioca starch, dried tomato pomace, potatoes, and chicken fat. Other ingredients include calcium carbonate, choline chloride, caramel color, salt, natural flavor, carrots, BLUEberries, cranberries, barley grass, parsley, vitamins, minerals, etc.
Benefits of the BLUE Wilderness high-protein grain-free adult dry dog food
BLUE Buffalo's BLUE Wilderness adult dog food does a lot of good to the overall health condition of your pet. Comprising various essential elements, the BLUE Wilderness food for adult dogs come with the following advantages.
High protein content means enhanced growth of your dog
There are many protein-releasing ingredients in the BLUE Wilderness. And it is a known fact that protein is essential for the development of humans and the same for dogs too. The rich protein content of this pet food ensures that your dog does not lack the required nutrients for its growth and development.
Friendly to the digestive system of dogs
All the ingredients used in formulating the BLUE Wilderness adult dog food were carefully selected and are safe for all dogs. The pet food is highly digestible by the dogs and has no side-effects as with some others.
No artificial flavors or preservatives
Artificial flavors and preservatives have negative effects on the health of your pet. This is why BLUE Buffalo did not include it in the BLUE Wilderness formula for adult dogs. Instead, the formula is preserved using the unique LifeSource Bits composition. In addition, natural flavors have been used instead of the synthetic type ensuring that your dog gets the best in terms of dieting.
A major ingredient of the BLUE Wilderness adult dog food is the Menhaden fish meal is a source of Omega 3 fatty acid while Omega 6 fatty acids are gotten from flaxseed. These fatty acids help to maintain the sheen of your dog's skin. In combination with some other nutrients, the Omega fatty acids play a vital role in maintaining healthy joints.
Healthy balance of essential nutrients
In order to cater for your dog's dietary needs, BLUE Buffalo – the makers of all BLUE Wilderness pet products – have ensured that the BLUE Wilderness adult dog food is made from ingredients containing the essential nutritional components and in the right proportions.
Conclusion
Having the essential nutrients combined in the precise and adequate proportions, the BLUE Wilderness adult dog food has been carefully produced to cater for the dietary requirements of pet dogs. There are no substances in the formula which can put your dog in harm. Instead, through the nutritional contents of the dog recipe, your dog is provided with all the necessary elements for it to grow and develop in the right way.