Merrick Grain Free puppy dry dog food review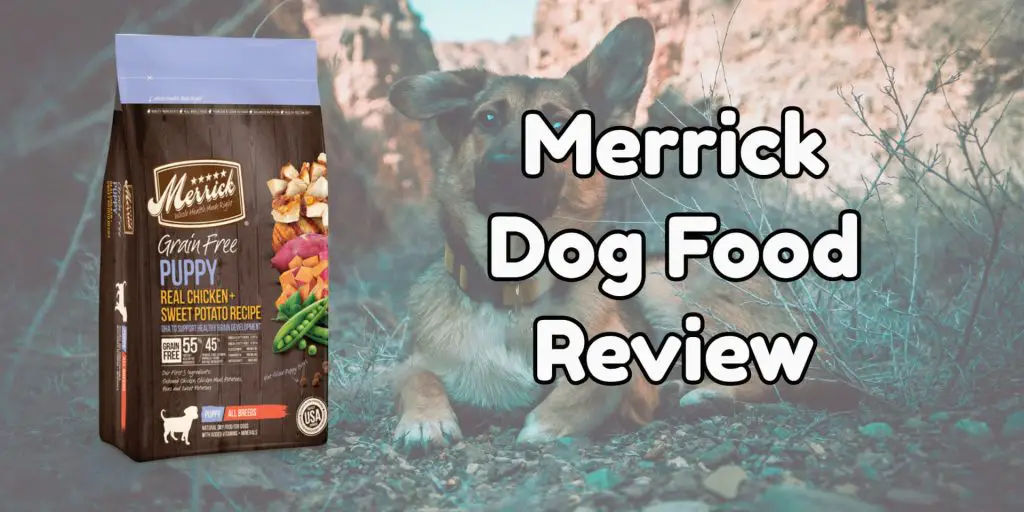 On this post, we going to review Merrick dog food for puppy. If you are looking for the Merrick dog food for an adult dog, please read this post here.
Introduction
A dog's diet plays a vital role in its growth and development process. Domestic pet owners are beginning to understand how vital their pet diet is to the overall growth and development of their pets. Nowadays, it is not uncommon for dog owners to make a research on the available dog recipes in the market, to enable them to get the best for their dogs. That being said, dogs need food portions that are rich in proteins and healthy fats.
While there are many dog recipes in the market, only a few contain all the essential nutrients needed for a healthy dog growth. Moreover, in this limited few, there are only a handful of authentic recipes; this poses a sort of problem for dog owners whenever they want to get the best dog food for their pets.
Merrick Grain-free Puppy is a solution to the dog owners' problem. This puppy food is a combination of real whole food and healthy ingredients that are sourced locally to give your dog a balanced diet.
Merrick Grain-free Puppy is a high-quality, organically prepared dog food with the essential nutritional ingredients required for the healthy development of your dog. Based on deboned chicken meat that has rich in protein, Merrick Grain-free Puppy integrates fresh fruits and veggies like blueberries and peas to provide a balanced dog diet. This highly-nutritious dog recipe combines the fruits/vegetables and meat/fish in a 45:55 ratio which is marketed as 55% animal proteins and 45% fresh produce, vitamins, and minerals.
It doesn't matter the development stage of your puppy, Merrick Grain-free Puppy is prepared in a manner to cater for the nutritional needs of all puppy varieties – whether small, medium or large breed. With the included DHA, your dog's brain development process will not only be healthy but as fast as it can get.
Furthermore, every Merrick Grain-free Puppy is made in-house – no ingredient is imported – and has been quality tested to ensure that your pet gets the highest quality regarding their dieting.
Essential ingredients of Merrick Grain-free Puppy dry dog food
The Merrick Grain-free Puppy is a dry dog food with so many critical nutritional elements made up of the dry material content of about 4%. The necessary ingredients contained in this dog recipe include deboned chicken meat, sweet potatoes, peas, potatoes, chicken meal.
Other essential ingredients used in formulating this nutritious dog food are flaxseed oil, apples, salt, minerals, folic acid, blueberries, chicken fat, vitamins, choline chloride, salmon oil, organic alfalfas, etc.
Health benefits of Merrick Grain-free Puppy dog food
The top-notch ingredients used in making Merrick Grain-free Puppy provide many benefits for dogs. While there are others, the following benefits outlined are some of the most important.
High-quality protein for bodybuilding
The fact that Merrick Grain-free Puppy begins with real deboned meat means that your dog is provided with high-quality proteins that are the essential raw materials for amino acids. Amino acids are required for healthy muscle formation and overall bodybuilding.
Omega fatty acids for healthy skin
Not all fatty acids are right for your dog. Omega fatty acids are Every Merrick Grain-free Puppy is rich in omega-6 and three fatty acids that help in keeping your dog's skin sheenier. These acids work side by side with high levels of glucosamine and chondroitin in maintaining healthy joints.
Gluten-free and no grains for easy digestion
Gluten is a type of protein that can be gotten from grains such as wheat and barley. Gluten contains gliadin which is an allergenic substance to some dogs. While research shows that only a minority of dogs are gluten-sensitive, it is still essential that these few minorities are considered in making dog food. With this fact in mind, there are no included gluten ingredients in Merrick Grain-free Puppy which make it easy for digestions.  However, while there are cereals that do not have gluten, Merrick Grain-free Puppy puppy is made without grains.
Merrick Grain-free Puppy food is lacking in grains for good reasons. Dog foods containing grains are known to cause food intolerance or allergenic reactions in dogs. Asides from this, grain-free pet foods help in promoting gastrointestinal health.
No artificial preservatives
There are grave consequences of adding artificial preservatives to food. To help sustain the potency of Merrick Grain-free Puppy, every ingredient are freshly-sourced and organically prepared.
More energy
Since sweet potatoes are part of the basic ingredients in preparing Merrick Grain-free Puppy, they contain energy-releasing content. These easily assimilable carbohydrate contents of Merrick Grain-free Puppy help to provide required energy for your dog without disturbing the digestive system as in grains.
Balanced nutrition
Perhaps the most crucial benefit; Merrick Grain-free Puppy is made from a combination of high-quality and nutritional ingredients which ensure that every portion of your dog food is appropriately balanced with the right and a fair proportion of the required nutrients. And just as with humans, a balanced diet is needed for a healthy dog development.
Immune system boost
Blueberries which are essential in the production of Merrick Grain-free Puppy are rich in vitamins and anti-oxidants that gives improves the immune system. As a result, your dog is always in good health and rarely gets ill.
No poultry by-products
Another benefit that dog owners will derive from feeding their dogs with Merrick Grain-free Puppy is that there are no poultry by-products used in the preparation process. Using poultry by-products in making dog food comes with some disadvantages.
Organically prepared
Organically prepared foods have significant health benefits not only for humans but also for pets. Unlike some other dog recipes, Merrick Grain-free Puppy is made one recipe at a time in an organically healthy setting that follows the high standards of FDA. Also, the home-grown ingredients are gotten from local farmers. Just to add, all ingredients are obtained in the United States.
Other advantages of feeding your dog with Merrick Grain-free puppy include the absence of artificial coloring and the assurance that comes from using a product from a reputable manufacturer with enough experience in producing dog recipes with finesse.
Conclusion
Merrick Grain-free Puppy is a dog food that any serious dog owner should consider if they are looking for a great and healthy way to feed their pets. It doesn't matter whether it is the first recipe you would be feeding your dog with, or you are changing from an ineffective dog recipe. All that matters, however, is that your dog and you will be grateful for deciding to go with it.