Taste of the Wild for German Shepherd – Dog Food Review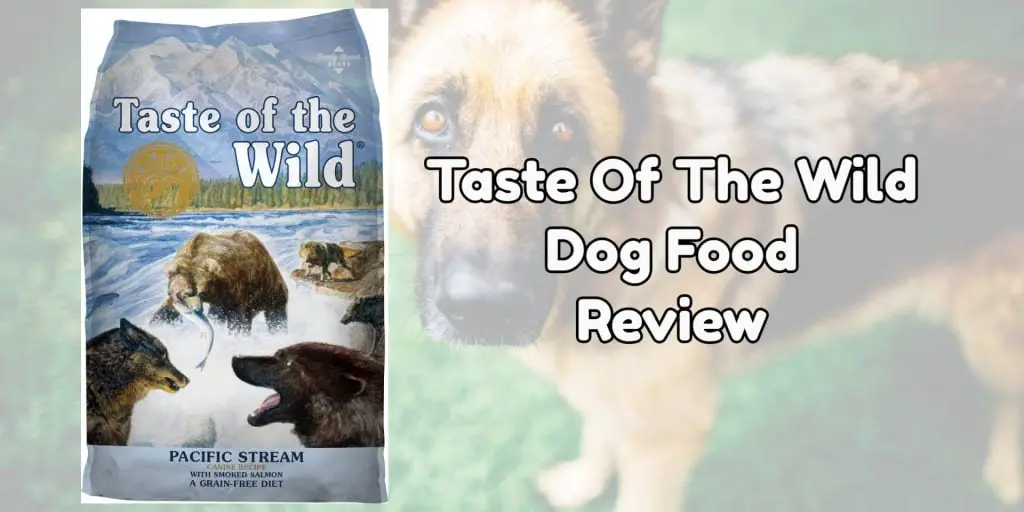 Just like we humans need to be careful about what we eat, the same level of care and attention is needed for the dietary requirements of a dog. 
The dogs also need healthy and nutritious diet that is a perfect blend of all the essential nutrients and vitamins that are needed in balanced quantities for a healthy living. Lack of any essential vitamin, mineral or nutrient in their bodies can hamper their growth and development. 
Sometimes it may even affect the mood and energy levels of your pet, making them tired, exhausted and unenergetic. 
Many new first time dog owners may face a lot of trouble in choosing the right food for their dogs that provide them with essential nutrients. They often get confused and resort to feeding their pets with homemade foods that they cook for themselves, and this upsets their digestive system to a great extent. 
Most of the time, dogs have allergies to certain food substances that their owners are not aware of. These food substances react with the body and would give birth to some pathogens that can cause harmful diseases which spoil not only the organs of your pet but can also ruin its flawless skin. 
It is extremely important to choose a diet for your dog that is free from all those substances that may cause allergies to your pet. In such a situation, the best thing to do is to provide your dog with a neutral diet that is free of grains. 
Taste Of The Wild is one of the best and the most recommended grain free puppy and adult dog food for your pet.
Add a header to begin generating the table of contents
Is Taste of the Wild Suitable for Dogs of All Ages?
The simple answer to this question is YES. 
Like human beings, dogs of different ages require different levels of nutrients. This is why both the puppies and the adult dogs have their own special food type.
Taste Of The Wild is suitable for dogs of all ages. It has all the required nutrients that help the puppies grow and make the adult dogs more active and healthy.
It contains all the essential vitamins and minerals that are extremely important for the puppies and for the adult dogs. These nutrients play a significant role in the healthy developments of bones in a puppy, and since it has an abundance of protein; It helps in the growth, development and repair of the tissues in the newborn puppies. 
Since it has a high level of protein, an abundance of energy and is free from grains, it becomes an excellent choice for protecting your dog from different allergies, which ultimately helps in maintaining the beauty of the skin of your dog.
Taste of the wild is specially planned to cater for both adults and puppies. It is enriched with special vitamins and minerals for healthy bone development in young puppies and as well as with rich sources of proteins for sped up tissue growth and repair. 
Because of its stable energy content, Taste of the Wild is highly recommended for adult dogs. It comes with all the proteins for tissue growth and repair plus its grain free and will help keep skin allergies at bay.
Importance of Healthy and Balanced Diet for Your German Shepherd Dog
If you want your dog to have a healthy life, then you should invest in its diet. Keeping up with your dog's nutritional needs is an important responsibility for you as a dog owner. Your pet, like yourself, needs a balanced diet for healthy growth, immunity, and overall well-being. 
Unfortunately, a dog's nutritional needs are a world away from ours as humans. What we need to be healthy differs greatly from what your pet needs to be healthy. Since your pet requires a different diet, you may find it difficult to keep up with its nutritional needs, especially if you are a first time owner. 
Sometimes pets are also allergic to some food substances. Their body reacts to these food substances as it would a disease causing pathogens. This body reaction often leads to restlessness in pets and most times damages its beautiful skin. 
As such, it is important you carefully select your pet's meals and ensure you eliminate foods which the dog is allergic to. In most cases, it is easier to go for a neutral diet, one that's grain-free, since grains are the major causes of allergies in dogs. 
Taste of the Wild is one of such grain-free foods that are recommended for every dog owners who wishes to have a healthy, happy pet. Taste of the wild comes with all the essential nutrients every dog needs for healthy growth. It is specially formulated to cater to all ages of canines.
How is Taste of The Wild Beneficial for Health?
There are many companies selling dog food out there, but Taste Of The Wild is one of the best. 
It follows all the necessary industry standards and is known to make dogs more happy, healthy and active.  Taste Of The Wild dog food has a lot of different benefits for dogs, especially German Shepherd Dogs. If you are a dog owner who cares for their dog, then you should go with a trusted and well reputed Brand. Taste Of The Wild gives you that trust. 
There are many benefits of Taste Of The Wild dog food for your dog. Let's take a look at a few of them.
Free of Grains
The Taste Of The Wild is a formula based food, and it does not have grains in it. Instead, it contains roasted salmon, lamb, venison and Fowl, which means it is very suitable for German shepherds and other large breed dogs so they can easily stay away from allergies because the grain content is precisely zero.
Taste of the wild has zero grain content and such food items do not lead to any allergic reactions in German Shepherds no matter how sensitive the dog might be.
High Energy Levels
You would be very conscious if you saw your dog just lying down on the floor having a dull day. It might not be because of his health, but because he has low energy levels. Dogs usually feel this way when they don't get enough necessary nutrients. 
Therefore, it is very important for dog owners to choose dog food that is high quality and full of necessary nutrients. Taste of The Wild contains high-quality protein meat in the form of chicken, beef and lamb as well as complex carbohydrates such as legumes and sweet potatoes that help provide an immense amount of energy to your dog, helping him to easily keep going in a day.  
You need your dog to be active and have high energy levels. You will not be able to play with your dog and it will not be able to company you in the park if it has low energy levels. You need to invest in taking care of your dog and an investment in Taste Of The Wild is the best place to go.
Helps in Boosting the Immune System
Like all other living beings, dogs need to have a strong immune system to survive and have a healthy life. One of the best ways to boost the immunity system of your German Shepherd Dog is to give him good quality food like Taste Of The Wild. 
As it is popularly known that the 70% of the dog's immune system is in its stomach, Taste Of The Wild is particularly and specifically created to work with the immune system of your dog through his stomach by providing high-quality grain free meal which helps in keeping the allergies away. It has specific bacteria, vitamins and minerals that help in the healthy functioning of your dog's stomach.
It has a perfect protein Blend
Proteins are necessary for you, German Shepherd Dog. Proteins are crucial in fighting against diseases, so if you want your German Shepherd Dog to always be shielded from diseases, then Taste Of The Wild is the best way to go. 
As it is already mentioned above that Taste Of The Wild contains a variety of animal and plant based protein such as turkey, chicken, beef, lamb, salmon, quail, venison, roasted bison, legumes and potatoes making it a best meal to provide a perfect blend of protein to your pet.
Provides Omega-3 Fatty Acids
Omega-3 fatty acids are extremely essential for dogs as they help to maintain the beauty of its skin and the shine of its coat. If you want to maintain the beauty of your dog, then Taste Of The Wild is the best option to go for as it contains the right amount of nutrients that provide your dog with adequate amounts of omega-3 fatty acids. 
Omega-3 comes from the smoked salmon and omega 6 comes from other plant based ingredients used in the product and they both play a great role in the repairing of tissues, which ultimately helps in the maintenance of healthy and beautiful skin.
It has a Touch and a Taste of The Wild
No matter how much a dog is domesticated, it will still have that sense of wildness in its genes. It is popularly known that the DNA of a dog is like the wolf but because they posses immense love for humans and always take care of their owners by protecting them; they have now completely become domestic animals.
However, all dogs have a touch of Taste Of The Wild in them and by feeding them Taste Of The Wild, you eventually help them become happier and more satisfied.
Giving your dog a little "taste of the wild" will help your dog reconnect with its roots.
Important Ingredients of Taste of the Wild Dog Food
Taste Of The Wild dog food is full of important and necessary ingredients. If you want your dog to have a happy, healthy and active life, then you should give them Taste Of The Wild. 
Some of the ingredients found in Taste Of The Wild Dog Food are Wild Buffalo, chicken meal, egg supplements, sweet potatoes, lamb diet, potato protein, canola oil, roasted bison, beef, roasted venison, natural flavor, tomato extract, pea protein and raspberries. 
There are other essential minerals as well. Essential minerals such as vitamin B1, vitamin B6, vitamin B12 supplement, vitamin D supplement, manganous oxide, ascorbic acid, vitamin A supplement, dried chicory root, biotin, niacin, calcium pantothenate, manganese proteinate, manganese sulfate, folic acid, ocean fish meal, salt, chloride, tomatoes, zinc sulfate, blueberries, vitamin E, iron proteinate, potassium iodide, zinc proteinate, copper sulfate and copper proteinate can all be found in Taste Of The Wild.
Conclusion
Taste Of The Wild is an easy, ready to use, healthy and extremely nutritious dog food for your pet. It provides you with everything in one pack and you do not have to worry about buying things on your own and then mixing them together in right quantities. Everything is already and perfectly done for you. 
Moreover, as it is grain free, it helps to ensure that your pet is kept away from all kinds of skin allergies. When it comes to healthy dog food, Taste Of The Wild is not doubt the best choice for your dog.