German Shepherd Grooming – 7 Tools and Techniques to Groom Your GSD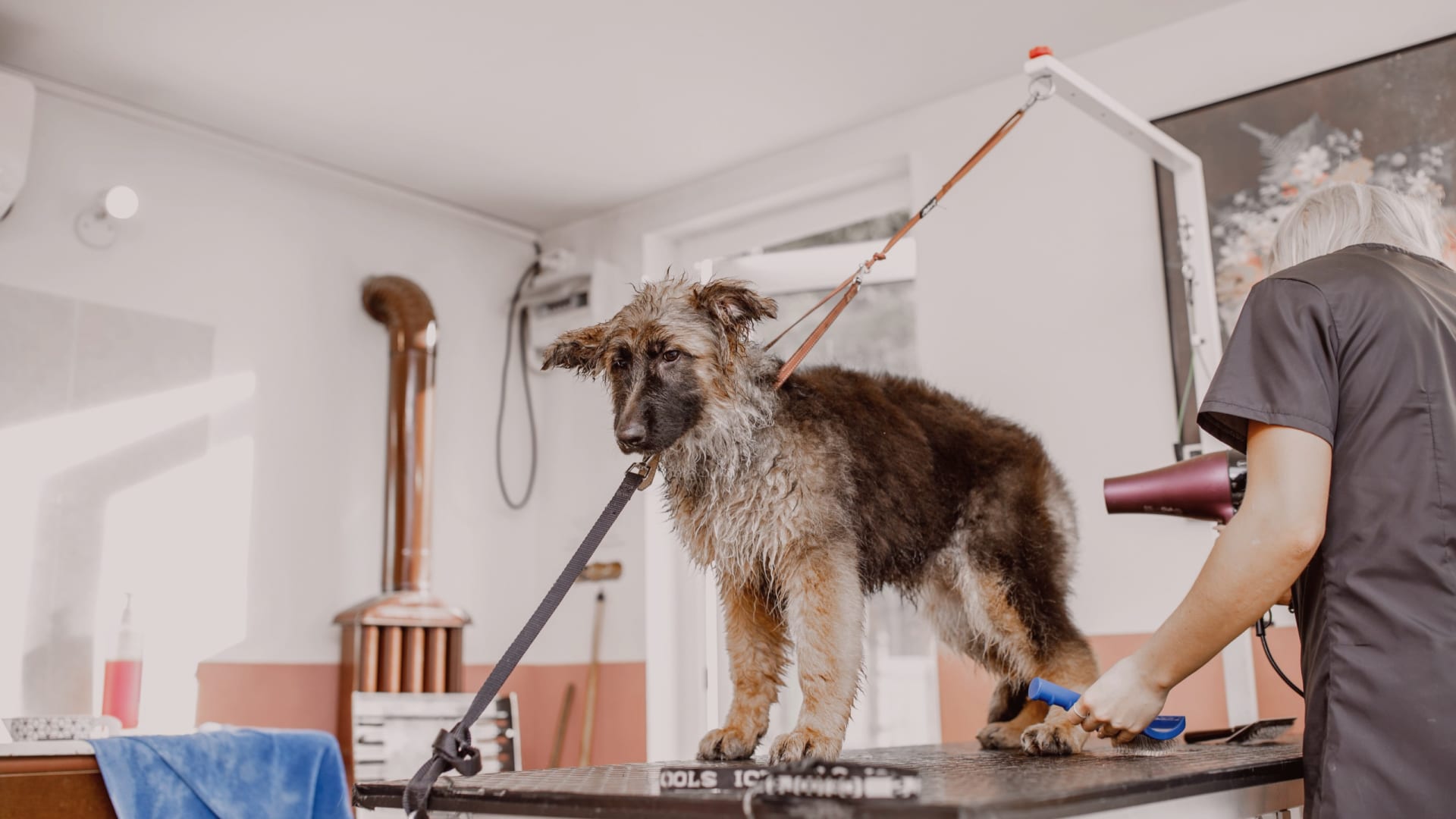 Add a header to begin generating the table of contents
German Shepherd Dogs (GSD) need care and, in order to do so, you must not only take care of their food and environment but also of its grooming!
Grooming your German Shepherd is very beneficial for its health and a hygienic dog is even more adorable!
It is very important to keep your German shepherd clean and tidy to avoid developing a disease or picking up a virus.
Below, we will discuss a few great tools for your German Shepherd Dog, followed by a description of each grooming technique that will help you maintain the best possible hygiene for this breed.
Best Grooming Tools For German Shepherds
German shepherd grooming requires the best grooming tools. However, your choice of grooming tools will affect whether your German shepherd looks forward to or dreads the next grooming session.
Choosing to work with the right tools will make the whole grooming process efficient. Additionally, having the perfect tool with you will reduce the visits you give that expensive groomer.
That said, below are some of the best grooming tools that will not only make your German shepherd look good but feel better.
Talk of efficiency and reliability in one place; that's what the Ceenwes dog clippers offer you.
Ceenwes dog clippers, an all in one dog tool kit with everything you may need for your long-haired German shepherd.
Your dog worried by the noise and vibration of other hair clippers? The Ceenwes is here to resolve that.
Armed with a ceramic and stainless blade that cancels noise, your dog won't feel the buzz or noise that may arise from this dog clipper. Thus you are assured your pet will feel safe and be calm during the whole trimming process.
Additionally, this dog clipper has both features of functioning with a cord or cordless. So, if you are tired of changing batteries now and then, this should be your number one choice.
What's more, a quick charge of 3 hours comes with 4 hours of use. Thus you are assured that your dog's regular grooming process will be smooth and no worries of power going down in between.
While at that this, the Ceenwes dog clipper has a led charge indicator that shows your current power status. So, in this case, you will be better positioned to gauge your grooming process and know when to stop.
| Pros | Cons |
| --- | --- |
| Cost-effective. | The grip on the hand not that comfortable |
| Low noise while trimming. | |
| 4 hours of service after charging. | |
| All in one kit. | |
PawsPamper Undercoat Rake for Dogs
A German shepherd can have a hard and rough coat coupled with Matts, which can be tough to untangle.
However, the paw pamper extra-wide undercoat rake will save you from these troubles.
The reason being, this rake effortlessly undoes the matt while being gentle on your dog's coat.
Additionally, the curved edges on the head ensure the rake freely maneuvers the undercoat, so it's assure no loose hair will be left out.
Moreover, this rake has a blade with round edges that blows away the possibilities of injuring or causing irritation on your dog.
What's more, this rake has an ergonomic handle that you can grab comfortably on your hand as you groom your shepherd. Thus you are assured that the whole grooming session will be smooth and no fatigue on your hands.
Having this tool is one of the best investments you can make if you want your shepherd dog to have a shiny free-flowing undercoat.
| Pros | Cons |
| --- | --- |
| Money-back guarantee | Handle gets loose with time |
| The handle is comfortable while using | |
| Curved blades ensure no after irritations | |
Hertzeko Self-Cleaning Slicker Brush
After using a rake to detangle the matt, you will need a good grooming brush like the Hertzeko self-cleaning slicker brush.
This Hertzeko brush is one of the best grooming tools for German shepherds. It's a multipurpose tool designed to remove dirt and gives your dog that needed massage as you brush it. A clean undercoat and a proper massage enhance blood circulation all over.
Additionally, this brush has fine bristles that easily navigate through the coat removing the fur without irritating your dog.
German shepherd owners who have used this tool attest that they have seen a 95% reduction in shedding.
As you know, it can be stressful to clean off the excess fur on the brush. However, this brush has made this cleaning process easy. With a click of a button, the bristles can retract back, making it easier to remove the excess fur.
Additionally, this brush has a comfortable anti-slip handle that will prevent you from straining as you groom your pet.
| Pros | Cons |
| --- | --- |
| Easy to clean | Can be hard for people with arthritis |
| Comfortable Antislip handle | |
| Removable comb | |
| Easy to use | |
(Upgrade Version) Pet Grooming Glove
Some German shepherds can be hard to groom using a brush or a rake as they dislike them.
However, these grooming gloves can save you all that trouble. The reason being the fine rubber nods on the surface, clean off the dirt and loose hair from the shepherd coat with ease while the dog will feel like you are petting him.
Not only can you use this glove to remove the fur, but you can still use it to wash your lovely fur-ball.
This glove will be more comfortable for use on the body's parts, like the face and the tail where a brush cannot be appropriate. With that, you are assured that every part of your canine gets well-groomed.
Since you now have the right tool to remove mud and dirt from your shepherd dog when it swims in a puddle of mud, you won't be concerned.
Additionally, the fine rubber endings on the surface give your dog a gentle massage, and he will always yearn for more.
| Pros | Cons |
| --- | --- |
| Easy to use | Difficult to clean |
| Size adjustable | |
| Cost-effective | |
| Breathable | |
Casfuy Dog Nail Grinder Upgraded
Getting hugs from your German shepherd is fun. But it won't be fun anymore when your shepherd claws give you that painful scratch on your shoulders or hands.
Right?
That said, the Casfuy dog nail clipper is here to save you from such trouble.
This dog nail glider slowly delivers that trim effortless without causing pain to your dog, thus leaving your dog claws neat and tidy.
Additionally, this grinder has a low- high-speed design; you can interchange whether trimming your young pup with soft claws or your elderly shepherd dog with hard rock claws.
Additionally, it's one of the best grooming tools for German shepherds that fear vibrations or sounds. The reason being, it has whisper-quiet technology that produces low sounds; hence your pet will be calm as you trim its nails.
The Casfuy is a cordless rechargeable grinder that you can carry and charge it anywhere.
You can comfortably handle and trim your pet with this ergonomically designed body with antislip features.
| Pros | Cons |
| --- | --- |
| Perfect noise reduction | Battery life short |
| Can be used on both hands because of the ergonomic body | |
| Can trim both soft and hard nails | |
Veterinary Formula Clinical Care Antiparasitic & Anti-seborrheic Medicated Shampoo
Is your shepherd dog struggling from stubborn seborrhea that is always itchy? Then this medicated shampoo is the real deal.
This shampoo contains salicylic acid and micronized sulfur that treats the scaling and itching that comes with mange and parasitic infestations.
Say bye to the flaking skin as, within time, most consumers that have used this product can attest that they have seen results soon than they expected.
Additionally, it's one of the best grooming tools for German shepherds as it has a balanced pH; hence you are sure that no irritation or discomfort will occur.
After using this veterinary formula clinical care antiparasitic & antiseborrheic medicated shampoo, your lovely shepherd will be happy and comfortable.
Worth to note: avoid using human shampoo as it causes disruption of the natural oils and still causes flaking and irritation.
Another note: Even if your dog appears to have healthy skin, you may still need to use a good shampoo if its skin is sensitive.
| Pros | Cons |
| --- | --- |
| pH balanced | Can be stubborn to wash off |
| Easy to use, cost-effective | |
Ione Dog Hairdryer (Wendy Mom - Professional Double E Grooming Certified)
After using an appropriate dog shampoo, you need a dryer that will quickly dry the moist fur coat. Hence this ione dog hair dryer comes in hand.
This dryer has a strong wind force that not only dries the coat but blows away any debris on the coat.
This dryer's short mouth ensures there is a uniform distribution of wind and temperature without harming the pet.
Additionally, this dryer has a smart temperature control that ensures the hair dry fast and causes no harm to your dog.
I can attest that this is one of the best grooming tools for German shepherds.
Additionally, this dryer has a blue led beam light that spots urine dog stains that could not be spotted with the naked eye.
No need to visit a professional groomer as this dog hair dryer will give your German shepherd that sharp, professional look.
| Pros | Cons |
| --- | --- |
| Uniform spread of wind and temperature | Can be hard to use for beginners |
| Money-back guarantee | |
5 Factors To Consider Before Purchasing The Best Grooming Tools For German Shepherd Dog
It would be best if you do due diligence before deciding on the best grooming tool. Most importantly, I have compiled a list of some factors to look out for before making that purchase.
Cost-effective
Buy a product that has a reasonable price.
Easy To Handle
For example, by a brush with an Antislip handle. A product you will be comfortable with it on your hand.
Reliability, Efficiency, and Durability
Buy a product that will serve you for a long time.
Comfortable On Your Dog
Purchase the best grooming tool that will make your German shepherd want more. Not a tool that will make a shepherd dog fear grooming. Your dog's skin and overall hygiene depend heavily on grooming; you should not compromise on this.
Money-Back Guarantee
Be sure to ask the seller about the refund policy. Buy a product that you can return if it doesn't work out for you.
Finer Details
Always start grooming sessions for GSDs when they are puppies.
Brush your shepherd dog daily for proper shedding control and dirt removal.
An undercoat rake will be essential to tangle tough Matts.
Use a veterinary-approved dog shampoo that is not sensitive to your dog's skin, don't be tempted to use human shampoo as they may cause irritation of its skin.
Don't be a dull person when grooming your German shepherd; talk to your dog as you do the grooming. Engaging the dog helps in calming him.
Bathe your dog once every four months. Constant bathing erases the healthy natural oils.
Now, you know the best grooming tools for your GSD and how (and where) to buy those. Maybe you have already purchased a few and want to know how to use those, right?
Keep reading, we have explained each step and techniques you can use to make your German Shepherd Dog healthy and attractive.
But, before starting the German Shepherd grooming, tell me, do you know your dog?
Do You Know Your German Shepherd Well?
Even though you know your German shepherd really well, do you know the quality of your dog's coat? How can you identify what type of coat does a German shepherd has? Let's have a look.
Is German Shepherd A Double-Coated Dog?
Yes, GSD has double coats. A double-coated dog means they have two layers of fur. These two coats are called top coat and undercoat.
The top coat is also known as guard hairs, which you can only see when you play with your dog. The undercoat is the coat that helps your dog to stay warm during the winter.
The outer part of the coat is harsher feeling and tough while the undercoat is thick. The coat is around the front legs and the face is tight and short.
Dogs with this coat will shed often, and if the hair is not clear it can mat tangle, and clumps can form.
The hair type also produces the oil, which may make the dog smell bad if you don't groom your GSD periodically.
If you are a beginner or just recently got a German Shepherd dog breed, here are a few tips about the basic grooming you can follow and include in your dog's grooming routine:
Stand Your German Shepherd Dog on a flat surface
Move away from noisy places, dogs can often get frightened if there is too much noise and distract them, you need a calm dog to start the grooming
Don't grab onto your dog, you have to be patient, gently pet it and make it feel at ease and comfortable
Your German shepherd Dog might get a little uncomfortable initially and it might even move back and forth now and then, but you need to soothe your dog and make it calm down. This can be done by offering treats whenever it shows good behavior, in fact, good behavior should always be encouraged.
Inspect your dog's mouth and eat, look closely for details, sometimes there is minute infectious which might cause trouble later. Also, check your dog's paws.
Your German Shepherd might act restless while you are trying to clip its nails or giving it a bath, you have to act patient and calm. Screaming at your dog will just aggravate the situation and make it worse for both of you.
Always start brushing from your dog's head and gradually move down to other parts of the body such as the back followed by the tail
If you started grooming your German Shepherd late, it might have problems adjusting to this new idea of grooming, this is why it is advised to start as early as possible so that your dog can get used to it.
Always remove the loose coat so that there is no dead hair build-up.
Try to make grooming a great experience for both of you, don't force your German shepherd, and instead try to bring it in the mood.
How To Groom A German Shepherd?
Brushing Your German Shepherd Dog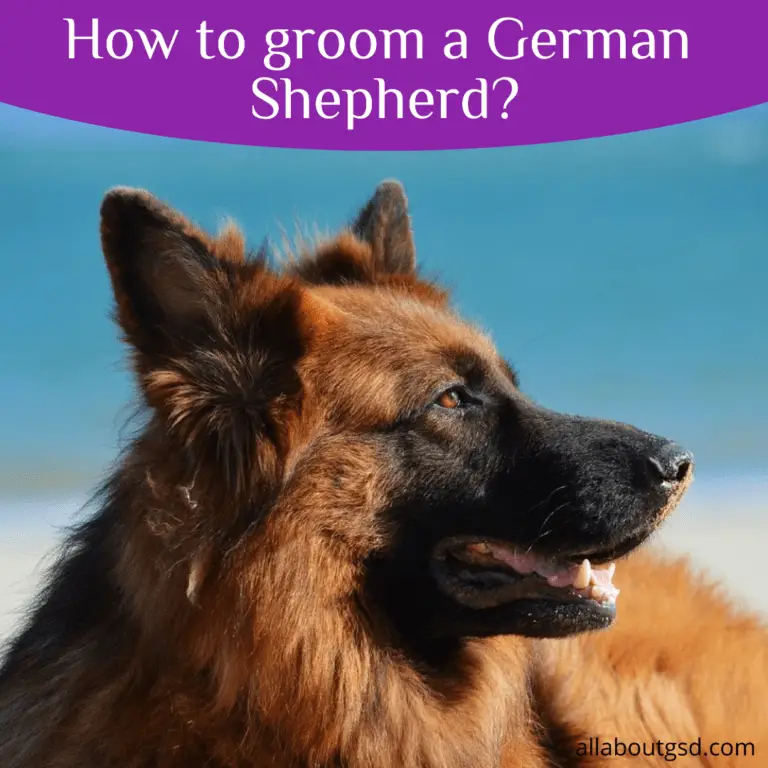 Well-groomed dogs are healthy, happy, and active dogs. German Shepherd Dogs shed hair around the year in a moderate quantity, but the real shedding season hits twice a year.
Brushing really helps in removing dirt or any dead hair so new hair can come in its place and of course, the fur gets healthier and shinier. Moreover, as the hair follicles are exercised, more blood is circulated.
When brushing your German shepherd, if you haven't brushed its coat in a long while, the fur will become matted over time, this will cause your dog shedding a lot of furs.
To get started, detangle your dog's coat, especially if your German shepherd is long-haired. You can easily do that by using a conditioner specified for dog coats.
Next, you need to look out for the loose undercoat, the way you do it is by brushing your dog started directly from the head and extending it towards the tail. Make sure you brush carefully. Pin brushes are effective in removing loose undercoat which is unattended by the brushed. Use a brush with soft bristles.
As for you, if your German Shepherd's fur keeps getting stuck in your vacuum cleaner, you will need to maintain it often, and of course, clean it. Always remember the more well-groomed your dog is, the healthier he will be!
Once the dog is dry, you can groom the dog's coat by using a regular dog comb. Comb through the coat several times to remove any mats or tangles that you may have missed prior to washing your dog.
When you work with the dog's coat, be methodical and work along the body of the dog. You can part the hair with a comb or use your hand to get to the undercoat. Try to brush right down to the roots of the hair.
You need to ensure that the hair is raised so you get to the undercoat, as this is where most of the Loose Hair and at angles are found. Do this throughout the entire grooming process to ensure that all the loose hair, tangles, and mats are out of the dog's coat.
Comb in the direction of the hair, check for bumps or lumps while you brush the coat. Also, keep your dog's coat fleas free and check for any signs, take action if you find any immediately!
If you are a new dog owner, this might come as a surprise to you, but yes, your dog needs a manicure!
Your German shepherd's nails need to be clean, no dirt, trim them often, and also keep a check if they are growing fine.
Clip your dog's nails at least once a week using a dog nail clipper, never try clipping dog nails with a nail clipper which you use for yourself, also be careful not to cut the dog nails too deep, you don't want to be cutting the quick! However, this depends on the length of the nails.
If you take your dog out on a walk, and he walks pavements and places which have rocks, then chances are that the nails naturally get trimmed naturally. Check out for split nails, any infected nails, or any unusual color of the nails. Nails can often signify the health of your dog.
Cleaning Your Dog's Teeth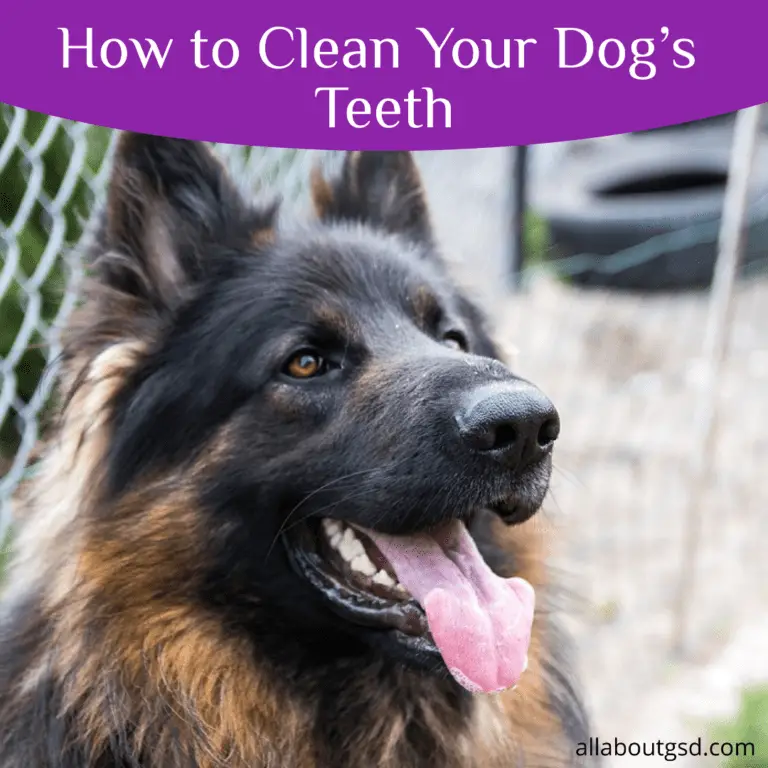 Cleaning your German shepherd's teeth is a vital part of grooming. Dogs can have dental issues just like humans including plague, stinky breath, tarter, and diseases related to gums.
Although you can't brush your dog's teeth every day, brushing them thrice a week is enough to keep the dental hygiene at its best.
Many German shepherd dogs tend to take time adjusting to this new setting, but with time they get used to it. Many dog kinds of toothpaste are available in the market as well.
Firstly, make your dog familiar with the smell of the toothpaste or maybe let your dog taste it a little. Another thing you need to be sure of is that you aren't using human toothpaste. If your dog swallows human toothpaste, it is going to be pretty harmful whereas dog toothpaste is safe to use!
Once your German shepherd has adapted to the smell and the idea of brushing, you need to put a small blob of toothpaste on each of its teeth and brush each one in slow circular motions, be very gentle, you don't want to be damaging its gums.
Moreover, make sure every tooth is clean off the tarter and your dog's breath smells comparatively fresher.
If you won't regularly brush your German shepherd's teeth, they won't get used to the idea of brushing and hold on to the brush, this will create difficulties in making your dog let go of the brush.
Many German shepherds won't open their mouths to let you brush their teeth. It closes like a clamp and they can literally stay hours like that! It is going to be a bit of a struggle initially, but eventually, it will turn out just fine. Your goal is to maintain your dog's dental hygiene in the best way possible!
Cleaning Your German Shepherd's Ears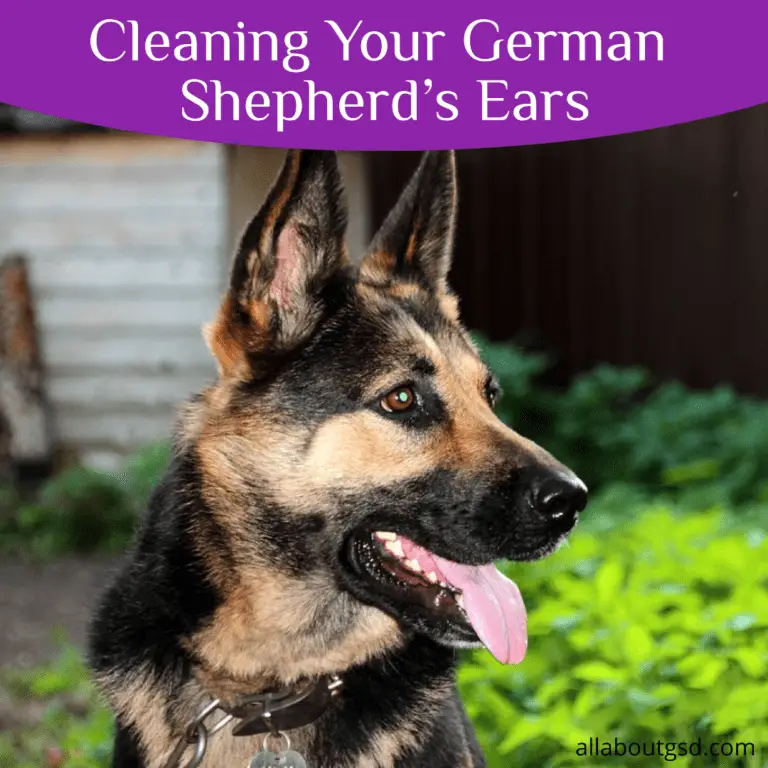 Most people pay little or no attention to cleaning their GSD's ears (ear canal), but this is an integral part of your dog's regular grooming! A German shepherd dog's ears are deep, but cleaning is very easy.
Clean both the ears at least once every week. If you aren't cleaning your dog's ears well, wax can build up over time causing ear infections and hearing problems if not taken care of.
Your vet can recommend you for the best ear wax drops. Just channel a few drops in your dog's ear, the drops are effective in dissolving excess wax, which might prove bothersome later!
Never try cotton buds, towels, or anything in your dog's ear! Don't try your own remedies; put nothing in its ears, nothing at all except for the ear drops which are recommended by your vet.
Never try to use oil, water, or anything else in place of the recommended drops it might clog your German shepherd's ears causing an infection later on.
Bathing A German Shepherd
How Often Should You Bathe Your German Shepherd Dog?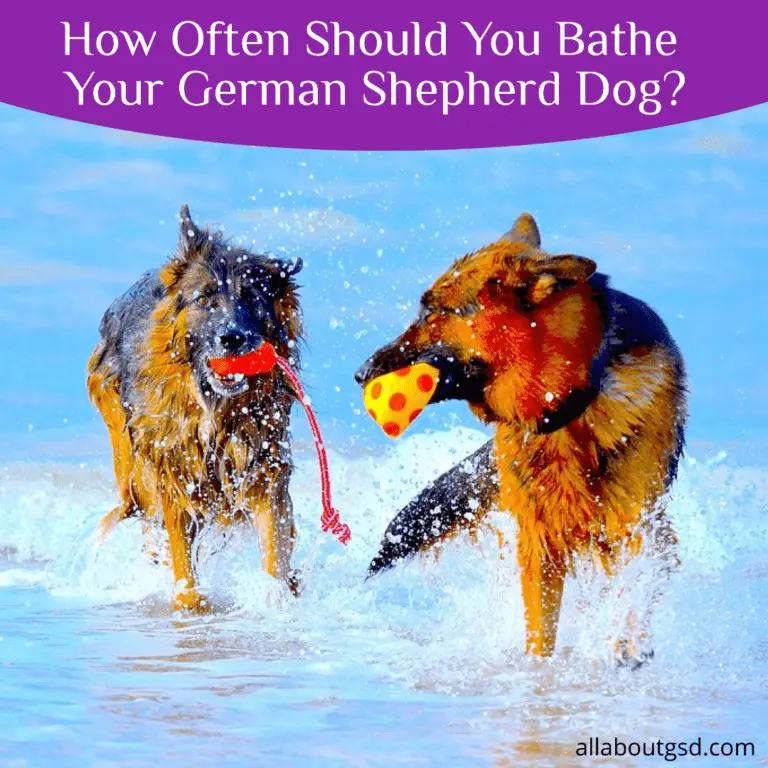 The number of times you shower your dog largely depends on how much you are brushing its coat, if you are brushing the coat regularly, chances are less dirt and germs are going to be trapped in your dog's coat and it won't need frequent baths.
If you have been giving your dog vigorous training sessions, a bath is important to get rid of all the dirt stuck on the coat.
GSDs often get dirty because of their frequent exposure to the outside environment. Whenever your dog smells and stinks, it's time for a bath. Also, when they encounter other dogs, you never know what kind of germs other dogs carry which could infect your dog.
However, more details about this on this article – How often should you bath a German Shepherd?
Some Important Accessories You Might Need Before You Bathe Your Dog
Look for a good dog shampoo, which is preferably tangle-free and provides coat conditioning for your dog. Don't try to use human shampoo on a dog coat, it won't give you the results you need plus most human shampoos are not to be tested on humans as they might cause harm to their coat.
Towels (Depends on the size of your dog)
A big tub so that your German shepherd can adjust inside comfortably.
If your dog is comfortable bathing, you could use a sponge to make sure they clung no dirt to the coat.
A German Shepherd should be bathed at least once a week, or at least once every 12 weeks. Baths should occur more often when the dog is molting and shedding.
Pay attention to the back of the legs, the ears, chest, tail, and stomach. What the dog during the bathing process but not the head of the animal. Use a proper shampoo for bathing dogs and lateral throughout all parts of the body, especially around the areas where the hair is dense.
Once the dog has been shampooed, rinse and lather thoroughly. You want to wash the head of your dog with a tear-free shampoo and make sure you rinse all the soap out thoroughly. Never apply any conditioner to the dog's coat.
Make sure that your dog is dry properly. We can do this using a hairdryer; it will make your dog's hair fluffy and smooth. However, do take care your blow dryer isn't set on high for it might frighten your dog or the excessive heat might even damage the coat!
Bathing your dog is essential but don't overdo it because just like human hair, a dog coat also has essential oils in them to keep the coat intact and strong. If you are going to bathe your dog too frequently, chances are you are stripping your German Shepherd's coat's essential oils.
Also, you don't want your dog's skin to get flaky and dried out so use a balanced pH dog's shampoo, nothing too harsh.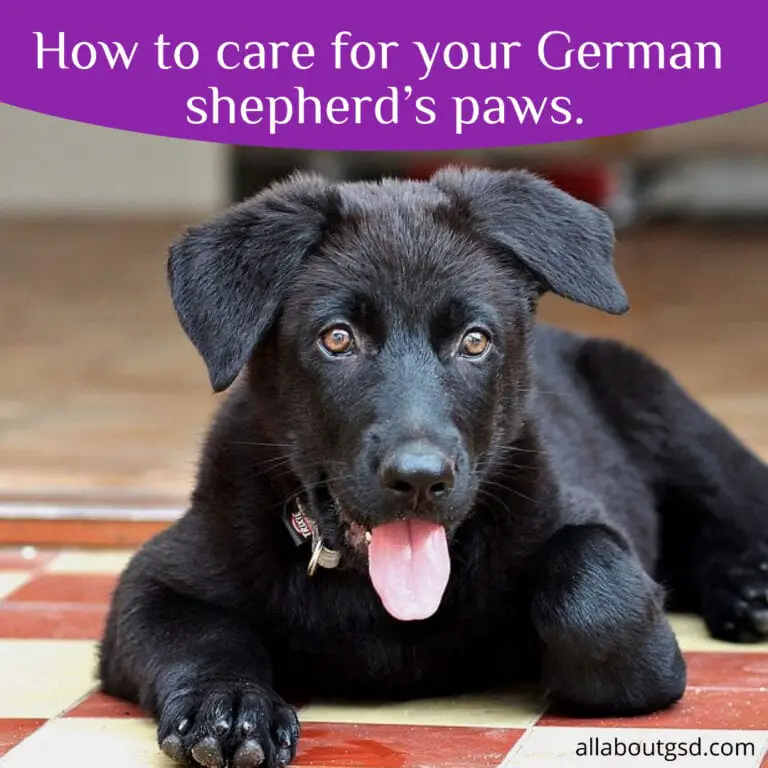 It is really important to care for your German shepherd's paws. You see, whenever you take your dog out for a walk, you are wearing shoes to protect your feet, but your dog isn't.
Dogs can get soared paws in winters. If your dog's potty area is outside your house, make sure you cover that area with hay or straw so the snow doesn't hurt its paws. Winters can get extensively cold and you don't want your dog getting frostbites for being out for too long in the snow!
If you are extra possessive about your German shepherd, dog boots are also available to keep the paws protected and warm.
Inspect the paws frequently, sometimes your dog's paws can even get hurt but they can hide pain really well so you will have to figure out the situation well.
You can then inspect other areas of the dog. Make sure you inspect the teeth to see if there are any dental issues. You can also check the condition of the dog's paws and remove any hair here if it is getting too long or trim the nails if you think this is required.
You can also remove any wax buildup from the dog's ears. Specific grooming tools are also available at the supermarket, which will really help in cleaning your dog clean and well-groomed.
A German shepherd is a low maintenance dog when it comes to grooming. However, it requires a serious effort to maintain a healthy coat, properly trimmed nails, and sparkling teeth.
Above all, home grooming your pet will improve and strengthen the relationship you have with your shepherd dog.
That said, invest in the best grooming tools for German shepherd to smoothen the whole grooming experience for you and your dog.
Similarly, the above guides will give you a head start when grooming a German shepherd dog.
Finally, having the right grooming skills and grooming tools will stop those endless trips to an expensive groomer.