Best Puzzle Toys for German Shepherds: Top 10 Choices To Keep Your Dog Busy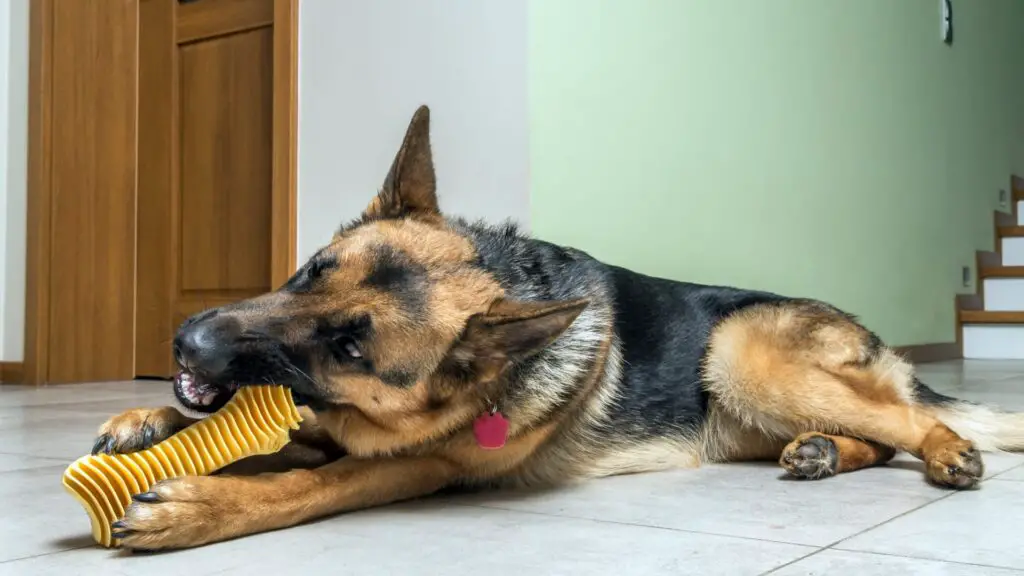 Add a header to begin generating the table of contents
Mental stimulation for German shepherds is a key aspect most German shepherd owners forget, preferring to concentrate on the physical needs of their fur babies. And such is wrong. You know, German shepherds are intelligent dogs who need constant mental exercise. And one of the ways to achieve that is by getting Interactive puzzle toys.
Besides entertaining your dog, these puzzle toys help decrease behavioral problems whenever your dog is not engaged.
With the vast majority of brands in the market, it may be hard for you as a dog owner to choose the best puzzle toy. Hence why we have created this article to save you from such agony. In this article, we will reveal the best puzzle toys for German shepherds.
Best Puzzle Toys for German Shepherds
Top 10 Best Puzzle Toys for German Shepherds
1. Best overall: Nina Ottosson by OUTWARD Hound – Interactive Puzzle Game Dog Toys
Nina Ottosson is one of the great champions in creating interactive puzzle toys for German shepherds. And one of the best interactive toys for GSDs from Nina Ottosson is this Nina Ottosson by OUTWARD Hound – interactive puzzle game dog toys.
This interactive dog puzzle game dog toy has three treat compartments that your dog has to flip open to get the treats out.
Worth noting, this puzzle toy is great for challenging dogs who have passed level 1 puzzle toys. With this toy, your dog has to maneuver all the obstacles to get the hidden treats.
We find this dog puzzle great for mentally stimulating a bored dog. Consequently, when you play together with your dog, it enhances the bond you both have.
This puzzle toy has no age limit, whether it's your puppy or senior shepherd dog. All this toy does is challenge your dog's intelligence. Rather than your dog concentrates on doing bad behaviors, this toy will channel all that energy into other positive things.
At first, to make it easy, you will need to put the treats in only one of the compartments without the brick-like bone. To make it more challenging and entertaining, cover the middle compartment with the brick style like bone.
This challenging puzzle toy is easy to wash. Worth noting, when the treats are over, you can decide to add some more or to prevent any damage. You can put the toy away till the next game session
A close overview of most reviews is that dog parents like the technology and craftsmanship of this dog puzzle toy for German shepherds.
Pros
A perfect puzzle toy for brain stimulation
Easy to clean
BPA and phthalate-free
Cons
Why this is the top German shepherd puzzle toy
Why does this toy defeat the rest? It's easy to train your German shepherd on how to interact with this puzzle toy. It teaches your dog how to use its natural hunting instincts to locate treats.
The Nina Ottoson interactive puzzle toys help in creating fun and entertainment for your dog. Lastly, this toy is easy to clean with soap and water.
2. Second choice: Volaco Pets Five Different Function Interactive Dog Toys
Wondering which toy to get your hyperactive German shepherd who's turning one year? Then you should get this Volaco pet's five different function interactive dog toys. This toy comes with five balls that serve different purposes.
We have the squeaky ball, which produces squeaks to entertain and get your dog's attention anytime he's barking or whining. Anytime this ball is pressed, it produces a unique squeaking sound.
The other ball in this toy type is the rope ball, carefully threaded together to keep your dog engaged. We also have the dental cleaning ball. With this dental ball, you can stuff yummy treats insides it and let your dog tries his luck by getting them out. While doing so, the ridges on the ball will help clean your dog's teeth, thus reducing any buildup of plaque.
Alternatively, you can apply some yummy sugarless peanut batter to entice your pup.
The other ball is the solid rubber bouncy ball, great for playing fetch with your dog. However, watch out for your dog's droll all over the ball when you play the game of fetch. The unique bouncy nature of this ball makes it more entertaining for your dog.
The other ball which we love on his toy is the IQ treat ball.  When using this toy, stuff some treats on it, and let your dog work them out without your help.
All these balls are made from non-toxic materials, not plastic.
Dog owners generally like the price of this puzzle toy for dogs. However, several pet owners complain that the IQ and dental ball hold fewer treats.
Pros
Made of natural, non-toxic materials.
Easily wades of anxiety and other behavioral issues.
Great for indoor and outdoor games.
Maintains dental health of your dog.
Cons
3. Best for calm dogs: OVMKOV Snuffle Mat for Large And Small Dogs, Pet Dog Puzzle Toys
The OVMKOV snuffle mat for large and small dogs, pet dog puzzle toy is designed to challenge your dog's sniffing abilities and foraging skills. There are thick felt leaves on this snuffle mat that you can hide treats there inside and let your skillful shepherd dog search for them.
Such a toy is best suited for either puppies or adults, as it reduces anxiety and boredom. This toy will also train your dog on how to eat slowly, which will improve your dog's overall digestion. This toy's bottom side has a non-slip design that stops your dog from pulling it anytime he's foraging.
Consequently, you can easily fold this toy for use during your family's outdoor adventures. When with this toy, at no time will your dog get bored when your family is having fun.
 The high-quality felt material on this toy ensures that it's sturdy and durable; thus, your dog will enjoy playing with it forever.
Dog parents who have purchased this dog toy like its eye-catching color. Whereas others like its price. However, most dog parents are not much comfortable with the rope used to adjust the size of this toy as it's flimsily made.
Pros
Improves dog's hunting skills
Made of high-quality felt material
Great for fast eaters
Color doesn't fade
Machine washable
Cons
Not perfect for aggressive or destructive chewers
4. Best for IQ training: Suwikeke Dog Puzzle Toy, Dog Puzzle Toys, Interactive Dog Game Puzzle Toy
Challenge your German shepherd's way of thinking by getting this Suwikeke dog puzzle toy. This puzzle toy for German shepherds has 14 treat compartments and eight moving sliders. Put tasty treats into these compartments, and let your German shepherd bring on his game face as he tries to fish out these treats.  Your dog can try to open these sliders with either his paws or nose.
Besides being a great boredom buster, this toy will help develop your pup's brain as he grows.
The anti-slip base ensures the whole toy is stable whenever your German shepherd is working out the treats.
Consequently, the 14 compartments on this toy slow down your fast-eating German shepherd, who vomits everything whenever he swallows the food hastily.
With PP material, this toy is tear-resistant, which means this toy will withstand your dog's battering anytime he's trying to get the treats out.
In case you want to alter the level of difficulty. You can adjust the screws on the backside.  Sometimes with prolonged use, the slides become loose; however, you can tighten them, ensuring all enjoyable moments for your dog never stop.
Going all over the reviews, most dog parents like the craftsmanship of this dog puzzle toy for German shepherds.
Overall this Suwikeke dog puzzle toy is here to challenge your dog's skills. So, is your dog ready to be challenged?
Pros
Easy to clean
Provides a better way of stimulating your dog mentally
Has a colorful design
Cons
Aggressive or destructive chewers can easily toss it off the ground
5. Best money-back guarantee: Pet IQ Intelligent Toy Smart Dog Puzzle Toys For Beginner
Brain train and strengthen your dog's cognitive abilities by getting this puzzle toy type for German shepherds.
Having five different treat compartments put treats in them, and watch your anxiety-laden dog wear himself out as he tries to get them out.
The five cups on this toy bear unique colors enough to get your bored dog's attention.
This toy also doubles up as a slow feeder suitable for dogs who love eating food very fast.
The spin on this beginner puzzle toy makes it even harder for your dog to get the treat you have placed inside, thus making the toy and game more interesting.
Furthermore, this durable and easy-to-use puzzle toy for German shepherds is easy to clean. You can either use a dishwasher or use a damp cloth to clean it.
Consequently, this toy is made of non-toxic and Eco-friendly PVC Material.
Lastly, if you are not happy with this toy or your puppy dislikes it, you can return it, and you will get your money back with no questions.
Pros
Durable and non-toxic
Strengthen dog's cognitive abilities
Fights off boredom
Best for fast eaters
Cons
Cups become loose and wear out after several uses
Not a good toy for aggressive chewers
6. Best design puzzle toy: LOOBANI Dogs Food Puzzle Feeder Toys for IQ Training and Mental Enrichment
IQ training is important for your German shepherd. And one of the best puzzle toys that will challenge your dog mentally is this toy from LOOBANI.
This dog toy will challenge your dog as he tries to work out a way of getting the treats from the hanging tubes.
This toy is an excellent option for German shepherds who are cumbersome. When working, just fill the hanging tubes with irresistible treats and let your dog try to work them out. The base on this toy has a sturdy base that prevents it from tipping over.
When you get this toy, your dog, who barks or becomes destructive when you leave, will now find ways to redirect his endless energy.
Consequently, this toy has three adjustable heights, which you can adjust per your dog's height or whenever you want to make the game challenging for your dog.
This treat-dispensing toy is great for GSDs who consume their food in seconds, only for them to vomit it all later. Sounds like your dog? Then get this toy which will act as a slow feeder.
And if you Love DIY stuff, then this challenging puzzle toy is great for you, as it comes disassembled and has predrilled holes for easier home assembly.
As a caution, don't put wet food inside the tubes.
Pros
Offers fun and entertainment to German shepherds
Height adjustable
Durable and has a strong base
Great for slow feeding your GSD[
Cons
Hard to assemble
Not suitable for destructive chewers.
7. Best puzzle toy for senior German shepherds: Starmark Bob-A-Lot Interactive Dog Toy
Interactive toys let your dog develop his brain. And one of the best types of toy that mentally enriches German shepherds is this StarMark Bob-A-Lot interactive dog toy
To get the best out of this toy, unscrew or open the yellow top, fill it with your dog's favorite treat and watch the shepherd dog being outfoxed or outfoxing this dog toy. The wobbly nature of this toy makes it more challenging for your dog as he tries to sniff out a way of getting the treats.
There is a little switch on this interactive puzzle toy for a German shepherd that you can adjust to make the game easier or harder for your dog.
The mental benefits this toy will have on your dog will be unmatchable. One, your high-energy dog, who gets bored every time you leave, will find something to keep him engaged. Additionally, your dog who chews all the furniture in your house or anything on his path will find a toy where he can direct his energy.
Lastly, this toy is made in the USA; thus, safety is guaranteed. Consequently, there are no plastic or polymers, which can be dangerous for your dog.
Pros
The toy can be filled with 3 cups of food
A perfect slow feeder
Made in the USA
Cons
The base is not that sturdy
not a great toy for power chewers
8. Best level 2 toy: Trixie Dog Activity Flip Board Level 2, Interactive Treat Puzzle Game
Does your Adult German shepherd seem like he has outwitted the technology on other pet toys, and nothing seems challenging before his eyes? Then here is a puzzle toy for German shepherds your dog should try.
This hide and seek toy lets your dog challenge himself as he tries to get the delicious treats you have hidden inside.
All you need to do is get your dog's favorite treats.  Then hide them under the cones or the sliding disk, and watch your dog try to open these compartments.
With a difficult level two, this puzzle toy entices your dog to use all the techniques under its paws to lift the flaps or cones in pursuit of these yummy treats.
Such a toy with treats will be a great source of entertainment for your dog, thus blowing up any chances of him becoming bored anytime you are busy or when you are away.
If your dog seems to work out the treats with ease, increase the difficulty by hiding the treats under the doors of this toy and let the dog use the movable arm to unlock them.
The base has a non-slip rubber ring, which keeps this dog puzzle toy steady anytime he's working out the treats.
When delivered, you get a booklet that will guide you on how to use this toy.
Like other pet owners, when you get hold of this toy, you will be amazed by the craftsmanship and technology.  More often, you will find yourself using the toy rather than your dog.
 Pros
Challenges dog intelligence
Durable design
Great for blowing up boredom or any bad behavior
Cons
Made of plastic, thus not suitable for a heavy chewer
9. Best for aggressive German shepherds: WEST PAW ZOGOFLEX Qwizi Dog Puzzle Treat Toy
My dog chews shoes, furniture, socks, and nothing is safe under my dog's watch. Sound like your teenage shepherd? Then here is an interactive chew toy that will put such behaviors to a stop, WEST PAW ZOGOFLEX Qwizi dog puzzle treat toy
This dog chew toy has been made with tough material, strong enough to withstand your aggressive dog's battering.
To make it more enticing and fun for your dog, you can add your dog's favorite treat inside. Some of the best treats I know you can use include dog biscuits,  dental sticks, baby carrots, and apple slices.
After stuffing the treats, let the adult German shepherd try working them out with all his energy and thinking capability.
We find this toy to be perfect for teething puppy shepherd dogs as it soothes those itchy gums and still keeps your dog busy, away from your furniture or shoes. The curved shape of this puzzle toy allows you and your dog to hold it with ease.
Consequently, this toy can be a useful fetch toy whenever the treats are over. Such makes it a multi-purpose toy for both indoor and outdoor games.
We find this WEST PAW ZOGOFLEX Qwizi dog puzzle treat toy to be the best interactive chew that stimulates your pooches whereas satisfying his taste buds during playtime.
Pros
Keeps your German shepherd stimulated every time
The curved shape allows easier handling
A multi-purpose chew and fetch toy
Made of non-toxic materials
Cons
It can be hard to stuff treats
10. Best for puppies: Modern Wave Squeaky Plush Dog Toy
The Modern wave squeaky plush dog toy is an interactive dog toy that let's your dog play with squeaky squirrels.
Your dog, who cannot stop whining or jumping hysterically, will be captivated by the squeaking squirrels, thus calming him down.
Altogether, the three squirrels produce peculiar sounds to entice your dog.
The toy is made of soft material; thus, no time will it damage your dog's teeth. Per your preference, you can let your dog play with this toy either indoors or outdoors.
Here is how one of the dog parents thinks about this dog puzzle toy for German shepherds.
Our puppies have had a great time with this! They enjoy the whole thing, from pulling the squirrels out to playing with them individually, and they like to carry the nut around – loll.
It has held up fairly well so far. The only thing is that the squirrels' tails are sewn to the body and pulled the tail away from the body, but not of the squirrel.
I would get another toy like this; they have been having fun and have been occupied. – Mini shepherd mom from amazon
Pros
Made of soft material
It can be used indoors and outdoors
A great interactive dog toy
No harmful chemicals
Suitable for a German shepherd puppy
Cons
Not great for German shepherds who are strong chewers.
Some squirrels stop squeaking after use.
What To Look For In The Best Puzzle Toys For German Shepherds
Materials
A crucial aspect to check when getting the best puzzle toy for your dog is the materials used. A good toy should be made of safe and non-toxic materials.
Avoid toys with phthalates or BPA since, if ingested, they risk causing kidney issues.
Also, the material you choose should be sturdy enough to withstand your dog's battering. Also, the material making this toy should be wear and tear-free.
Remember to avoid toys made of very hard materials as they may injure your dog's teeth.
Dog's Behaviors
Your dog's behaviors will help you choose the best German shepherd puzzle toy. A dog who is a tough chewer or displays aggressive behaviors will not need a puzzle toy made with flimsy materials.
Also, you need to watch your dog's preference if your dog dislikes certain toys no need to waste your money on them.
The Benefits Of The Puzzle Toy
What benefits is this toy bringing to my dog? Will it help keep my dog busy, or will it help challenge its intelligence. Such are the key questions you need to ask yourself. A good puzzle toy should have multiple benefits. You will find other toys have health benefits; for example, some can help clean your dog's teeth and soothe gums whereas keeping your dog busy.
Cost
Cost is paramount when you go to choose the best puzzle toy for your German shepherd. Always premium doesn't mean high quality. If the puzzle toy you are to buy is costly, check its key benefits. You can also read reviews from other dog owners for easier decision-making.
Overall a good toy should be worth the money you decide to invest.
Why Are Toys Important For German Shepherds?
So, why are why toys for Dogs important
Toys have great benefits for German shepherds if used correctly. Here are the key benefits of getting your dog a puzzle toy
Puzzle toys help exercise your dog mentally- did you know 15 minutes of mental play equates to 30 minutes of physical stimulation. Yes, and one of the ways of mentally exercising your dog easily is by using a puzzle toy. Such toys help challenge your dog to the limit
Keep your dog motivated
Puzzle toys will are a great source of entertainment
Watch your senior dog turn into a puppy whenever you get a puzzle toy. For example, toys that squeak a lot will help entertain and entice your dog whenever he's bored.
Whenever you train your dog on using these puzzle toys, it creates time for both of you to interact and bond.
Most puzzle toys also work as slow feeders – they help slow down fast feeders who eat very fast, only to vomit everything.  A dog who eats slowly will rarely get bloat or any other digestive issues.
How Do You Mentally Stimulate a German shepherd dog?
Here is how you can stimulate your dog's brain Get quality puzzle or interactive puzzle toys
Your dog may get bored with one toy; thus, to ensure your dog never gets bored and he's forever stimulated, you need to keep changing his toys, like bringing back his long-forgotten toys.
Hide treats in places your dog will not find them easily. In such instances, your dog will have to use his senses to unearth these treats.
Let your dog sniff around during walks –
Agility training
How Often Should I Replace My Dog's Toys?
The best interval to replace your dog's toy is not standard. If you have a destructive dog, you may replace the toys every 2-3 days. If you have such a dog, it's prudent to get sturdier toys that will stand your dog battering.
Utmost, we advise you to change your dog's toys every 1- 3weeks depending on your dog's behavior. This is important as your dog can be bored if he uses the same toy for a long time.
What Is the Best German shepherd Puzzle Toy?
The best German shepherd toy should be made of quality materials that are not toxic. This puzzle toy for German shepherds should eliminate boredom and stimulate your dog.
The above shows our top 10 best German shepherd puzzle toys that will keep your dog engaged every time. After getting these puzzle toys, your dog will forever be happy and boredom-free.
Tell us, have you ever purchased any of the puzzle toys in this section? Or which puzzle toy for German shepherd do you love?